Data & Insights
Everyone understands the value of a great strategy, right? After all, every business person will at very least pay lip service to the idea that having a plan is pretty critical for success, whether in operations, branding or marketing. But if we're all being honest, the "strategy" part seems to have been overlooked for online marketing for a long time. Take for example the statistic that just 39% of B2C businesses and 42% of B2B businesses have a documented content strategy in place.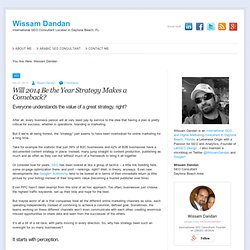 Wissam Dandan - Daytona Beach SEO and Internet Marketing Consultant
Arabian Bytes – Digital and Tech Trends in the Middle East
As the year draws to a close, we're recapping on The Year That Was, bringing you some of the top Tweets, trends and stories that have hit the headlines this year! Top UAE Googles of 2012 What were the top Googled terms of 2012 by residents of the UAE? Well according to the internet giant, we're an entertainment hungry bunch, with Gangnem Style, iPad3, and Olympics 2012 topping the list. The firm's Zeitgeist report, which revealed the 2012 trends from around the globe and by country, showed that UAE residents are fascinated by the Korean rap phenomenon PSY and his hit 'Gangnam Style', which is now the most viewed video ever on YouTube. Interest in political and social issues is also high on the list, with the conflict is Syria, Kony, and Hurricane Sandy also making the Top 10.
Startup Genome
More About the Startup Genome Compass Our mission is to increase the success rate of startups and accelerate the pace of innovation globally. Despite the enormous economic importance of high growth startups, more than 90% of all startups fail, primarily due to self-destruction rather than competition. We aim to increase the success rate by empowering entrepreneurs to make better decisions by providing them with better context and information.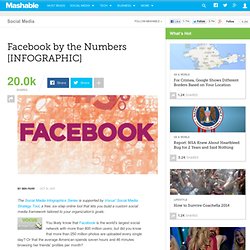 The Social Media Infographics Series is supported by Vocus' Social Media Strategy Tool, a free, six-step online tool that lets you build a custom social media framework tailored to your organization's goals. You likely know that Facebook is the world's largest social network with more than 800 million users, but did you know that more than 250 million photos are uploaded every single day? Or that the average American spends seven hours and 46 minutes browsing her friends' profiles per month?
wp-content/uploads/2011/10/Sindibad-Investment-Report_Oct_2011.pdf
Discover The World Around You With New Mobile App Roamz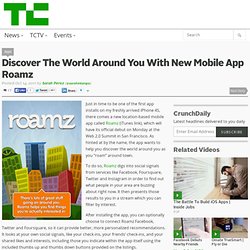 Just in time to be one of the first app installs on my freshly arrived iPhone 4S, there comes a new location-based mobile app called Roamz (iTunes link), which will have its official debut on Monday at the Web 2.0 Summit in San Francisco. As hinted at by the name, the app wants to help you discover the world around you as you "roam" around town. To do so, Roamz digs into social signals from services like Facebook, Foursquare, Twitter and Instagram in order to find out what people in your area are buzzing about right now.
Designing Dashboards & Data Visualisations in Web Apps
Our Mobile Planet