Webcomics
sChIzO - sChIzO 27: Can't Make Me
Pot Luck Comics
Pot Luck Comics
Mouse Guard: Fall 1152 - Graphicly
Garfield
The main characters in Garfield are: open/close all folders Garfield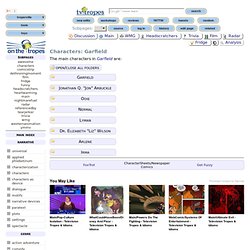 copper - sail
Giant In the Playground Games
KiLA iLO :: Comics - USELESS
at
Magra (+Magra Arc #2-Never Give a Second Chance pg.19+)
Starting Tomorrow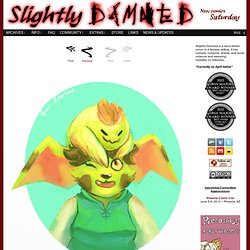 Hey, all. I've got a lot of important stuff to say, and most of it is not happy. Remember last time when I posted and asked for two weeks off of Slightly Damned? I need more time off. I feel like such a jerk, but I just don't think I can update SD properly this month.
The Boondocks Comic Strip, July 16, 1999 on GoComics
The Belfry WebComics Index
Unsounded
Sometimes while I'm drawing, I leave a chat room up that has a 'grab the mic and talk' feature. It's like listening to a podcast between a couple dozen people. Over the last week or two, one of the regulars of that chat room (who goes by DarlingNadia) has been stressing over the fact that her and her seven year old daughter are facing eviction.
Okay kiddos, it's time for a new update on the preorder of the Strays volumes. The biggest bit of information is the books are in production at this very moment and will be here by the end of the month! Woohoo!! They are on schedule to ship to us on December 20th and we should receive them within a week after that. Though we also have to account for a small delay for the holidays, so we expect to get them in hand at the beginning of January at the latest.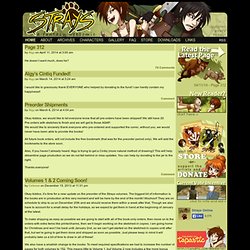 So as some of you may know, Digger got nominated for a Hugo award this year, thanks to a whole lot of seriously awesome people who cast nominating ballots, entirely without me knowing it was even eligible. This was very, very nice of them. "But Ursula!" you say.