PROCRASTINATION
Procrastination Research Group Home Page. This web site provides access to information and research related to procrastination.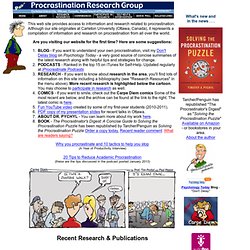 Although our site originates at Carleton University (Ottawa, Canada), it represents a compilation of information and research on procrastination from all over the world. Are you visiting our website for the first time? Beat procrastination with these helpful tips | DaVinci Dilemma(TM) If procrastination is a chronic issue for you (and I'm not judging; this blog post was scheduled to go up yesterday), rather than trying to beat procrastination, a smarter solution might be to learn to work with it.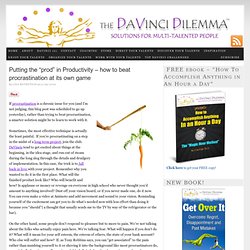 Sometimes, the most effective technique is actually the least painful. If you're procrastinating on a step in the midst of a long term project, join the club. DaVincis tend to get excited about things at the beginning, in the idea stage, and run out of steam during the long slog through the details and drudgery of implementation. In this case, the trick is to fall back in love with your project. Time Study Consulting » Blog Archive » How to Overcome Procrastination. Be inspired to overcome procrastination.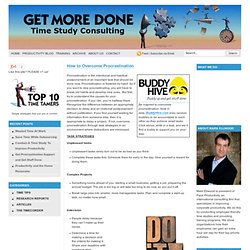 Now in beta, BuddyHive.com links random buddies to be accountable to each other as they achieve small tasks. Click above, write in a task, and we'll find a buddy to support you on your way. Procrastination is the intentional and habitual postponement of an important task that should be done now. Procrastination is fostered by habit. How to stop. Pressure pressure pressure!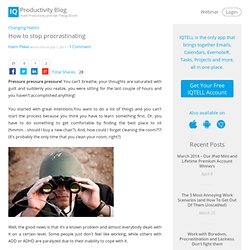 You can't breathe, your thoughts are saturated with guilt and suddenly you realize, you were sitting for the last couple of hours and you haven't accomplished anything! You started with great intentions.You want to do a lot of things and you can't start the process because you think you have to learn something first. Or, you have to do something to get comfortable by finding the best place to sit (hmmm…should I buy a new chair?). And, how could I forget cleaning the room?!?!
(It's probably the only time that you clean your room, right?) My Fav Procrastination Hack – 30-10 | zen habits. We all procrastinate — let's admit it.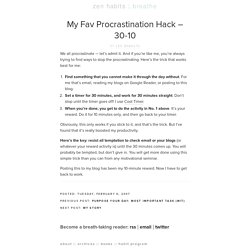 And if you're like me, you're always trying to find ways to stop the procrastinating. Here's the trick that works best for me: 7 ways to move beyond procrastination. Almost everyone is held down by what some call "the silent killer".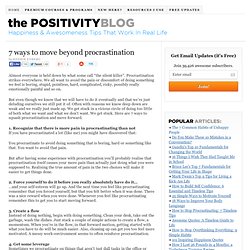 Procrastination strikes everywhere. We all want to avoid the pain or discomfort of doing something we feel is boring, stupid, pointless, hard, complicated, risky, possibly really emotionally painful and so on. But even though we know that we will have to do it eventually and that we're just deluding ourselves we still put it of.
---