LOOK
Newspaper Nails. A few weeks ago I shared in this post that I learned how to do this amazing thing called "newspaper nails.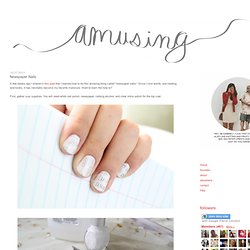 " Since I love words, and reading, and books, it has inevitably become my favorite manicure. Want to learn the how-to? First, gather your supplies. You will need white nail polish, newspaper, rubbing alcohol, and clear shiny polish for the top coat. 5 Fast Ways to Look Younger. Every woman dreams of being young forever, but unfortunately it is impossible due to the course of nature.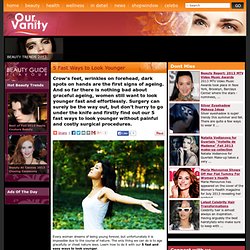 The only thing we can do is to age gracefully or cheat nature laws. Learn how to do it with our 5 fast and easy ways to look younger. Primer should necessarily take its place in your makeup bag. Apply a good primer before your makeup and you will get smoother canvas for foundation application and therewith prevent foundation form creeping into lines. Darken & Shape Your Eyebrows - New, Innovative and Simple Eyebrows Solution.
Adios, Barbie: The One Stop Body Image Shop for Identity Issues including Race, Size, Media, and More! Look gorgeous on every picture - Girls love style! In the past, cameras were usually used only for special occasions and everyone was trying to save the film only for the most interesting moments.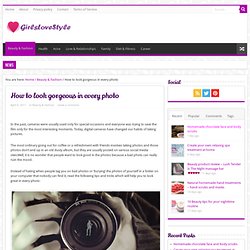 Today, digital cameras have changed our habits of taking pictures. The most ordinary going out for coffee or a refreshment with friends involves taking photos and those photos don't end up in an old dusty album, but they are usually posted on various social media sites.Well, it is no wonder that people want to look good in the photos because a bad photo can really ruin the mood.
Head Scarf Tutorial. After many requests, I finally made a tutorial on how to tie a simple head scarf.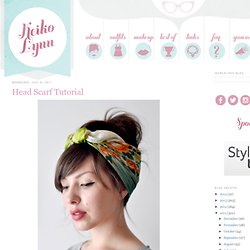 It's really, really easy. I did this without looking in the mirror, so that should tell you how easy it is. 37 Ways to Tie a Scarf | by Scarves. Hello there!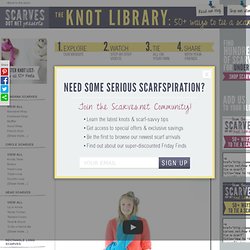 Welcome to The Knot Library. Are you ready to knot, twist, tie, tuck, loop, braid, fold, and fluff with Scarves Dot Net? We compiled over 50 (and counting!) Different ways to tie a scarf, so chances are we have a new knot or two for you!
MAKE-UP. HAIR. DIY Turban. We've recently received several requests for a turban DIY and so, your wish is our command . . .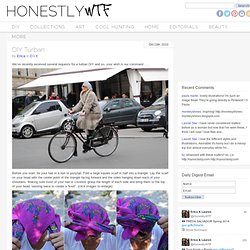 Before you start, tie your hair in a bun or ponytail. Fold a large square scarf in half into a triangle. Lay the scarf on your head with the center point of the triangle facing forward and the sides hanging down each of your shoulders. Making sure most of your hair is covered, grasp the length of each side and bring them to the top of your head, twisting twice to create a "knot".
---