Sewing
A fun fact about the Pumpkin Patch Weekender, our first SYTYC entry- our cute mom and dad (and burke!) walking downtown after our photo shoot
Pumpkin Patch Weekender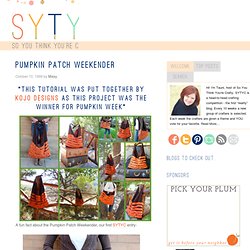 *This tutorial is put together by Chica & Jo based on their winning project for our Costume theme* With Halloween fast approaching, it's time once again to work on costumes. I learned last year while making Little Jo's costume that fleece is a fantastic material to use on costumes, because it's stretchy, warm, soft, forgiving, and doesn't require hemming. I love it! I used fleece again this year to make costumes for the girls, and I want to show you the the candy corn costume I came up with for Jo's younger daughter.
Candy Corn Costume Tutorial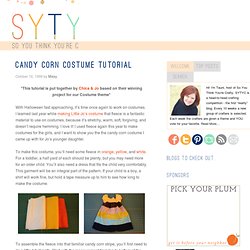 Fabric Bunting Beads
quilting
This fun scrappy quilt is quick to put together and great for beginners. Use lots of different colors to keep it bright and fun…or just a few colors to keep it calm and simple. Finished Size: 36" x 41" 1. You'll need to cut 27 color strips 2" x width of the fabric (at least 36") and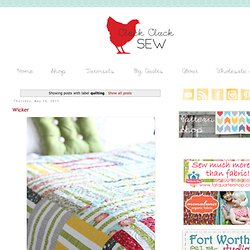 This is a favorite method of mine for putting together quick fabric patchwork pieces that I then use to cover my handbound books with. It's "low brow" because the fabric scraps are laid down with raw edges: I don't turn the edges of the pieces over, or stitch one piece to the next with a neat ¼-inch seam. I don't measure or use templates to cut the pieces out…I don't even use fabric* as the foundation! It is a great method to use if you plan to mount the patchwork to something hard and stable afterwards, as a purely decorative skin. Use the resulting fabric to cover a box, or medium density fibreboard (MDF) craft shapes…to cover book boards, or glue onto greeting cards.
Low-brow patchwork | from Hell to Breakfast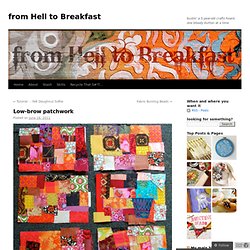 One Pearl Button: Tutorial: Twenty Minute Skirt
Pockets Camera Strap Cover
Anthro Orimono Pillow DIY! Scrap-buster =)
The Anthropologie Orimono Pillow, Flower has got to be one of the most iconic Anthro products ever. You've seen it before, I'm sure... Yep, it's a beaut'. So popular, in fact, that I've seen several DIY knock-offs in the world of talented sewist bloggers in the past few years.
Guess who's here today? It's Rachel from Maybe Matilda!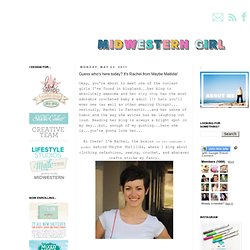 Okay, you're about to meet one of the coolest girls I've found in blogland...her blog is absolutely awesome and her etsy shop has the most adorable crocheted baby & adult (!) hats you'll ever see (as well as other amazing things)... seriously, Rachel is fantastic...and her sense of humor and the way she writes has me laughing out loud. Reading her blog is always a bright spot in my day...but, enough of my gushing...here she is...you're gonna love her... Hi there!
grey 3D flowers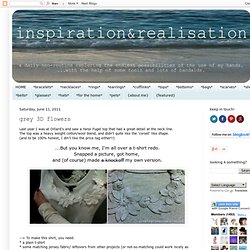 Last year I was at Dillard's and saw a Yansi Fugel top that had a great detail at the neck line. The top was a heavy weight cotton/wool blend, and didn't quite like the 'corset' like shape. (and to be 100% honest, I din't like the price tag either!!) ...But you know me, I'm all over a t-shirt redo. Snapped a picture, got home, and (of course) made a knockoff my own version.
(tutorial) Anthro Inspired Tee - Wandering Wake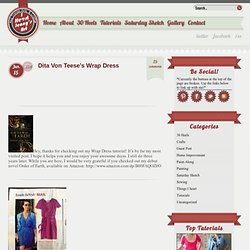 Jun. 2011 15 Hey, thanks for checking out my Wrap Dress tutorial! It's by far my most visited post.
Dita Von Teese's Wrap Dress — I Heart Jenny's Art
Remember when I shared that I wanted to celebrate spring? Well the celebration has begun =] First I am going to share flowers made out of felt. And these particular ones are very easy!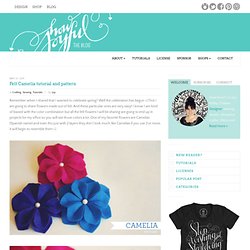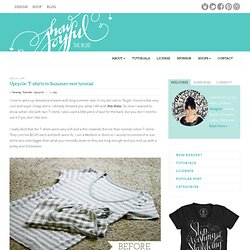 I love to spice up dresses and jeans with long summer vest. In my last visit to Target I found a few very cool and super cheap items, I already showed you what I did with this dress. So now I wanted to show what I did with two T-shirts, I also used a little piece of lace for the back, but you don't need to use it if you don't like lace. I really liked that the T-shirts were very soft and a thin material, thinner than normal cotton T-shirts. They cost me $3.00 each and both were XL.
Upcycle: T-shirts to Summer vest tutorial
I love shopping cart covers! They not only protect your little one from germs but they can be stylish buggy accessories! Okay maybe not... but that germ protection is reason enough to love them right? A friend of mine approached me and asked if I could make one for her son. Her significant other did not want one of the "girly" cart covers out there with the floral prints etc...
Shopping Cart Cover Tutorial
Bustier Line T-shirt Tutorial. Part 1: Pattern and pieces prep
Some of you lovelies commented on yesterday's post that you liked my Bustier Line T-shirt that I made a couple of years ago, so I thought I'd make a little tutorial to show how you could make your own, should you feel so inclined. I made the T-shirt pictured above during my lunch break today and took photos of the steps, but even though it's a quick project to make, I think the explanation may prove too lengthy for one post. So today I'll deal with how you can develop your own pattern and prep the pattern pieces, then I'll create a separate post covering the construction process later in the week. Ok, so I made the top above from two old mens T-shirt so these instructions refer to this specifically, but of course you could simply use stretchy fabric and alter your construction as such.
Baby London Star Moogle Pattern
make a fabric tissue case with finished corners — insatiable need
I made the tissue cases for the first time for the Richmond show this year, and at every show since then, people have gone wild for them. So many people told me that they've been looking for something like this but can't find it anywhere! I thought that need, combined with the fact that they are easy peasy to make, made them a great candidate for my first tutorial. This is my first time, so please be gentle. I do desperately want feedback, though.
Top 50 Stylish DIY Blogs | Careers in Fashion
Sewaholic Here you'll find "sewing projects, tips, and inspiration for the modern seamstress." Check out recent posts Bound Buttonholes: My Favorite Method , Underlining and Marking the O Dress , and Tracing an Unprinted Vintage Pattern . The Sew Weekly Mena started this blog to document her attempts to make all her own clothes, and now she has expanded her focus to trying to inspire others to make their own clothes, as well. She shares fabric finds, sewing inspirations, interviews, sewing challenges, and more. Check out recent posts The Pin-Up Brooch Holder Tutorial , Sourcing: Notions & Fabric , and Keeping Track of Your Patterns .
At long last, I present a tutorial for the tank dress I made a few weeks ago before the end of the semester blindsided me. I've been seeing these tank+patterned skirt all over the place lately, but frequently they were too short or too short-waisted for my particular proportions. After some googling, and studying the really excellent skirt tutorial and t-shirt dress tutorial at Ruffles and Stuff and the skirt with pockets tutorial at Freshly Picked, I decided that even my fairly rudimentary sewing skills could handle this project. And since I celebrated my height yesterday for Dress Your Best week, it seems appropriate to post a sewing project prompted by my need for a longer-than-in-stores dress. Supplies: a tank top2 yards or so of patterned fabricscraps of a coordinating fabric for pocketsmatching threaddisappearing fabric pen or chalk
DIY
Reusable Cloth Snack Bags