Computer Science
network ,Hack,tools sites
Ray Kurzweil Ray Kurzweil, the famed inventor and futurist, said today that he would join Google, starting Monday, to work on "some of the hardest problems in computer science." Kurzweil's title will be director of engineering. In a long statement on his Web site, he said he would focus on machine learning and language processing:
Ray Kurzweil joins Google as director of engineering | Internet & Media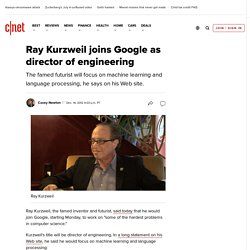 In the late '90s I thought COM (Microsoft's Component Object Model) was the way of the future. The whole architecture starting with the IUnknown interface was very elegant. And to hear Don Box explain it, COM was almost inevitable.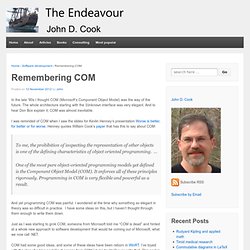 Remembering COM
Jure Klepic: Social Media Is Much More Than Just Social and Media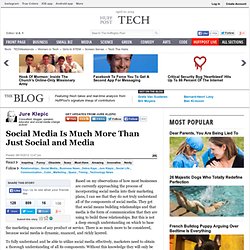 Based on my observations of how most businesses are currently approaching the process of incorporating social media into their marketing plans, I can see that they do not truly understand all of the components of social media.
C'est un petit boîtier bleu doté d'un système de reconnaissance faciale. Accroché à l'entrée d'un commerce, il est capable d'identifier certains clients à partir de leurs photos postées sur Facebook. L'outil, baptisé Facedeals et conçu par l'agence de publicité Redpepper, basée à Nashville, est censé permettre aux intéressés de profiter de réductions en fonction de leurs préférences affichées sur le réseau social.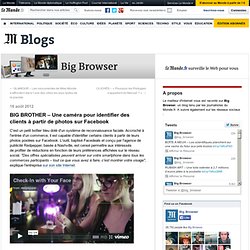 BIG BROTHER – Une caméra pour identifier des clients à partir de photos sur Facebook
How generous is the science budget, really? | Richard P Grant | Science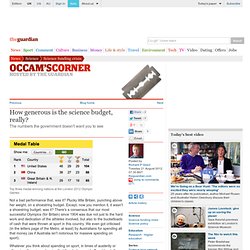 Not a bad performance that, was it? Plucky little Britain, punching above her weight, on a shoestring budget. Except, now you mention it, it wasn't a shoestring budget, was it?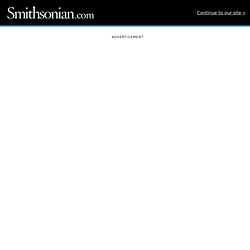 Can Computers Predict Crimes? | Innovations
Computers predict a city's crime hot spots. Image courtesy of PredPol Columbo would have hated the latest trend in crime-fighting. And it definitely would have made Dirty Harry even more unhinged. But Sherlock Holmes, now he would have been impressed. The logic, the science, the compilation of data–all the stuff of Holmesian detective work.
Pierre Lescure : "Avec la télé connectée, le piratage sera inarrêtable"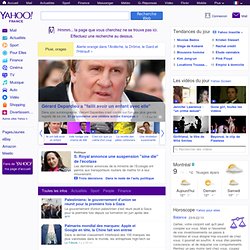 Pour l'ancien P-DG de Canal+ en charge d'une mission sur les enjeux du numérique, "Hadopi a des vertus de principe" mais a mis uniquement "le focus sur la sanction". Pierre Lescure, chargé par le gouvernement d'une mission de concertation sur la culture face aux enjeux du numérique, pour réfléchir notamment à l'avenir d'Hadopi, a estimé mardi sur RMC qu'"avec la télé connectée, le piratage sera inarrêtable".
Ce n'est pas franchement une guerre ouverte.
La froide colère du ministre Vidalies contre les effets pervers du net
Ouverture des données publiques : l'avis du CNNum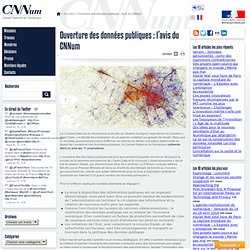 Le Conseil National du Numérique avait dès sa création souligné l'importance du chantier « Open Data » et décidé de s'autosaisir de ce sujet en installant un groupe de travail. Alors que le nouveau gouvernement vient d'affirmer sa volonté de mener une action déterminée en faveur de l'ouverture des données publiques, le Conseil National du Numérique présente dans un avis ses 11 propositions. L'ouverture des données publiques est plus que jamais d'actualité comme en témoigne le succès de la semaine européenne de l'Open Data et le concours « dataconnexions » lancé par la mission Etalab, qui viennent tous deux de s'achever.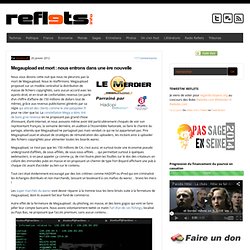 Megaupload est mort : nous entrons dans une ère nouvelle
Nous vous disions cette nuit que nous ne pleurons pas la mort de Megaupload.
The 7th HiPEAC conference will take place in Paris | HiPEAC
Emerald, the UK's most powerful GPU supercomputer was booted up yesterday at the Science and Technology Facilities Council's Rutherford Appleton Laboratory (RAL) in Oxfordshire.
UK's most powerful GPU supercomputer booted up - Enterprise
How Google uses Linear Algebra to Rank Pgaes on Vimeo
The CPU is dead. Long live the CPU! - Blog - StreamComputing
NASA Team Drives Mars Rover Like a 3D Game
At a time when Julian Assange (as this goes to press) is still enjoying protective asylum in the Ecuadorian Embassy, it's no coincidence that Australia and the UK are acting in tandem to bring in new legislation to cyber-snoop on their respective populations. This will involve all media – phones, mobile phones, SMS, Skype calls, email, online chat, etc. In doing this, both countries will fall into line with what the USA is enacting via its cyber-snooping legislation.
Cyber-snooping & anti-transparency laws: is 'parallel internet' the answer? « Darker Net
The case for open computer programs : Nature
The curse of ambiguity