A voir
You are almost there. The finish line is so close you can taste the champagne toast that comes with victory and a job well done.
Squashing Bugs: The Many Layered Approach to Mobile App Testing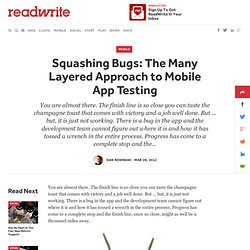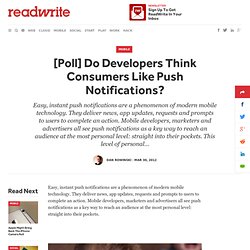 [Poll] Do Developers Think Consumers Like Push Notifications?
Easy, instant push notifications are a phenomenon of modern mobile technology. They deliver news, app updates, requests and prompts to users to complete an action. Mobile developers, marketers and advertisers all see push notifications as a key way to reach an audience at the most personal level: straight into their pockets.
The Nokia Lumia 900 Will Be the Key to Driving Developer Interest in Windows Phone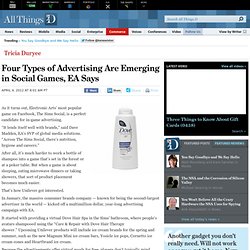 Electronic Arts Sees Four Types of Advertising Emerging in Social Game - Tricia Duryee
As it turns out, Electronic Arts' most popular game on Facebook, The Sims Social, is a perfect candidate for in-game advertising.
Google Edges Closer to Facebook as US Display Advertising Becomes Two-Horse Race