A voir
Squashing Bugs: The Many Layered Approach to Mobile App Testing. You are almost there.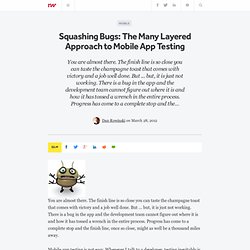 The finish line is so close you can taste the champagne toast that comes with victory and a job well done. But ... but, it is just not working. [Poll] Do Developers Think Consumers Like Push Notifications? Easy, instant push notifications are a phenomenon of modern mobile technology.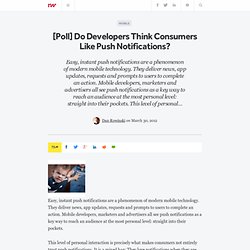 They deliver news, app updates, requests and prompts to users to complete an action. Mobile developers, marketers and advertisers all see push notifications as a key way to reach an audience at the most personal level: straight into their pockets. This level of personal interaction is precisely what makes consumers not entirely trust push notifications. The Nokia Lumia 900 Will Be the Key to Driving Developer Interest in Windows Phone. The Windows Phone Marketplace is a sad, sorry place.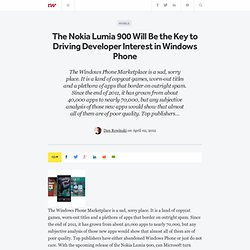 It is a land of copycat games, worn-out titles and a plethora of apps that border on outright spam. Since the end of 2011, it has grown from about 40,000 apps to nearly 70,000, but any subjective analysis of those new apps would show that almost all of them are of poor quality. Top publishers have either abandoned Windows Phone or just do not care. Electronic Arts Sees Four Types of Advertising Emerging in Social Game - Tricia Duryee. As it turns out, Electronic Arts' most popular game on Facebook, The Sims Social, is a perfect candidate for in-game advertising.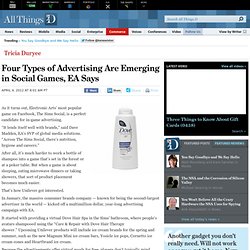 "It lends itself well with brands," said Dave Madden, EA's SVP of global media solutions. "Across The Sims Social, there's nutrition, hygiene and careers." After all, it's much harder to work a bottle of shampoo into a game that's set in the forest or at a poker table. But when a game is about sleeping, eating microwave dinners or taking showers, that sort of product placement becomes much easier. Google Edges Closer to Facebook as US Display Advertising Becomes Two-Horse Race.
Global ad revenues at Facebook to reach $6.1 billion in 2012 NEW YORK, NY (February 22, 2012)—Facebook passed Yahoo!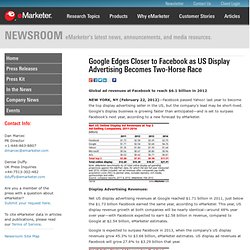 Last year to become the top display advertising seller in the US, but the company's lead may be short-lived. Google's display business is growing faster than anticipated—and is set to surpass Facebook's next year, according to a new forecast by eMarketer. Display Advertising Revenues:
---