Writing/Reading
5 Ways The Google Book Settlement Will Change The Future of Read. Annalee, Thanks for taking the time to assemble the article.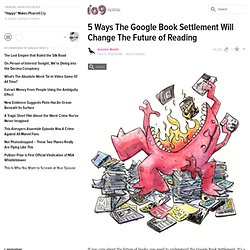 However, there are a few things that puzzled me: -" It may become harder to get information online about books from writers you love. " I read that whole passage, and very little if anything led me to believe that the GBS would make it harder to access works online. The closest the article came to explaining this assertion was saying that authors might avoid signing contractors with publishers who distribute online if the authors don't like the GBS.
Ebooks. Transmedia : France Culture. Reading and the Web - Texts Without Context. The Reading Machine.
---