Docs sur Webdocs
Get flash to fully experience Pearltrees
Où en sont les noces entre TV et Internet ? Quelles noces ?
I designed this handout on transmedia storytelling to distribute to my students. More recently, I passed it out at a teaching workshop at the Society for Cinema and Media Studies. I thought it might be of value to more of you out there in the community.
Un article de Wikipédia, l'encyclopédie libre. Le transmédia storytelling (de l'anglais transmedia storytelling ) est une méthode de développement d'œuvres de fiction ou documentaire et de produits de divertissement qui se caractérise par l'utilisation combinée de plusieurs médias pour développer des univers narratifs, chaque support employé développant un contenu différent.
Le Webdocumentaire, le récit multimédia et le web-reportage sont des formes narratives utilisant les différentes possiblités qu'offre le médium internet en terme d'interactivité, de supports (vidéos, photos, sons…) et d'écritures.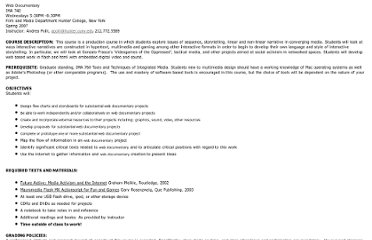 Web Documentary IMA 742 Wednesdays 5:30PM -8:30PM Film and Media Department Hunter College, New York Spring 2007 Instructor: Andrea Polli, apolli@hunter.cuny.edu 212.772.5589 COURSE DESCRIPTION: This course is a production course in which students explore issues of sequence, storytelling, linear and non-linear narrative in converging media. Students will look at ways interactive narratives are constructed in hypertext, multimedia and gaming among other interactive formats in order to begin to develop their own language and style of interactive storytelling.
Le CDDP du Tarn-et-Garonne a publié en février 2011 une carte mentale dédiée à l'étude du webdocumentaire en classe . Deux branches principales partent du sujet central. A gauche, les sites de réflexion sur le genre et les propositions d'activités pédagogiques.
Prix france 24-RFI du webdocumentaire La préselection du juRy La première phase du Concours France 24 - RFI du webdocumentaire vient de se terminer. Un jury s'est réuni fin juillet 2009 afin de procéder à une présélection que nous avons décidé de vous présenter.