Nmckenney
Nicholas McKenney
These winemaking pages have been in existance for longer than most on the internet. First started in about 1995, they have been added and changed as my opinions on winemaking and homebrew have changed over the years. I'm delighted to offer a range of home winemaking and homebrew articles and recipes, some of which reflect current thinking, and some older. I try to add to these winemaking pages on a regular basis. If you can't find the answer to your own particular homebrew problems, I will be delighted to hear from you. Tom.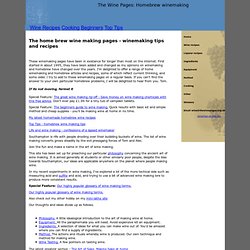 The WineMaking Pages - HomeBrew and wine making
How to make wine in no time, the cheap way
and you thought making wine was tough? How the heck do you think your grandfather did it? | Deutsche Volkslieder | Ahnenforschung | Ferienaufenthalt | Folksongs | Hymns | Genealogy | Pacific Holiday | HOME PAGE | Email | Warning! If you think you know the meaning of the word Sommelier 1), DO NOT READ ANY FURTHER! Leave this page as quickly as you can!