Sa Majesté des Mouches et le droit
Sa Majesté des mouches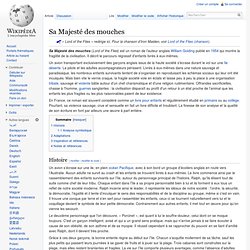 Un article de Wikipédia, l'encyclopédie libre. Sa Majesté des mouches ( Lord of the Flies ) est un roman de l'auteur anglais William Golding publié en 1954 qui montre la fragilité de la civilisation. Il décrit le parcours régressif d'enfants livrés à eux-mêmes. Un avion transportant exclusivement des garçons anglais issus de la haute société s'écrase durant le vol sur une île déserte .
"[W]hat makes things break up like they do?" Alternative Explanations For the Societal Breakdown in William Golding's Lord of the Flies © Copyright 1999, Skylar Hamilton Burris (This version has been edited to remove spoilers for my class.
William Golding Lord of the Flies Literary Criticism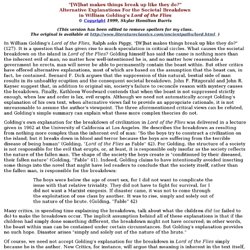 One of the big questions raised by Lord of the Flies is whether the boys in their primitive actions are reverting to a somehow inferior state of life, or whether they are driven to their natural and rightful states. If well-brought up British boys become violent savages when left without supervision, maybe people really are just violent savages, covered up in clothes and caps. But big questions aside, primitivity in Lord of the Flies means hunting, the desire for food, the desire for power, bloodlust, violence, sadism, and a general inability to distinguish between man and beast. Try on an opinion or two, start a debate, or play the devil's advocate. Though Roger and Jack commit similar actions, it is the difference in their motivations that renders Roger morally inferior to Jack. While Jack is driven by a desire for power, Roger is compelled by purely sadistic impetuses.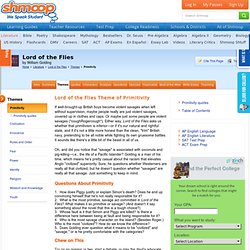 Lord of the Flies Theme of Primitivity
Lesson Plans: Lord of the Flies: Law and Order (Middle, Literature)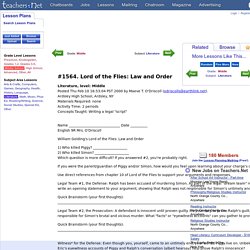 Literature, level: Middle Posted Thu Feb 10 16:53:04 PST 2000 by Maeve T. O'Driscoll ( odriscolls@earthlink.net ). Ardsley High School, Ardsley, NY Materials Required: none Activity Time: 2 periods Concepts Taught: Writing a legal "script"
Lord of the Flies: Metaphor Analysis