Philip K Dick adapté au cinéma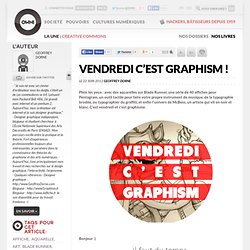 Vendredi c'est Graphism !
Plein les yeux : avec des aquarelles sur Blade Runner, une série de 40 affiches pour Pentagram, un outil tactile pour faire votre propre instrument de musique, de la typographie brodée, ou typographier du graffiti, et enfin l'univers de McBess, un artiste qui vit en noir et blanc.
Minority Report Trailer 2
MINORITY REPORT - Bande annonce - Trailer
Minority Report - Scène d'ouverture
Blade Runner (film)
Un article de Wikipédia, l'encyclopédie libre. Blade Runner[n 1] est un film américain de science-fiction, réalisé par Ridley Scott et sorti en 1982.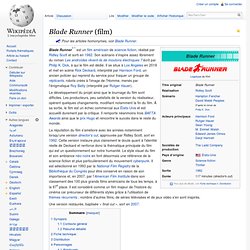 Off-world: The Blade Runner Wiki
BladeZone: The Online Blade Runner Fan Club and Museum
The religion of Philip K. Dick, science fiction writer
Un article de Wikipédia, l'encyclopédie libre.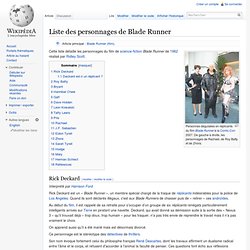 Liste des personnages de Blade Runner
Cycnos
Le but de cet article est d'identifier et de distinguer les deux images de l'homme-machine : l'une que nous rencontrons au XVIIe siècle dans les textes de Descartes en particulier, l'autre qui s'élabore au XIXe siècle et que l'on retrouve dans la science-fiction. Il s'agit de confronter à Descartes, le texte de Philip K. Dick, Do Androids Dream of Electric Ships ?
Memory Memory, and its reliability, is a major issue in many of Dick's stories. As well as being a major feature of Blade Runner it also plays a crucial role in both Paycheck and Total Recall. We all know that we can forget things that have happened to us, and there is reason to believe that we can 'remember' things that never happened to us at all, either via hypnosis, or simply by being mistaken. In many of his stories takes this further by describing a future where memories can be surgically implanted or removed. In Blade Runner the issue is raised when Deckard first encounters Rachael, a replicant who fully believes that she is a human.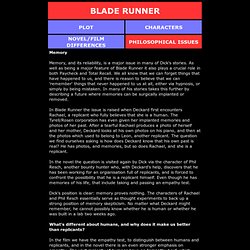 The Philosophy of Philip K. Dick