N900 Maemo
Où acheter le Nokia N9 ?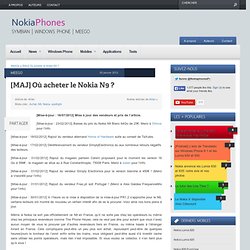 [Mise-à-jour : 16/07/2012] Mise à jour des vendeurs et prix de l'article. [Mise-à-jour : 23/02/2012] Baisse du prix du Nokia N9 Blanc 64Go de 25€. Merci à Sthocs pour l'info. [Mise-à-jour : 18/02/2012] Rajout du vendeur allemand Home of Hardware suite au conseil de TaXules.
Non, Nokia n'a rien annoncé de plus, officiellement ou officieusement, sur la sortie de son N9 : pas de précisions donc sur les dates de sortie, par pays, etc. Alors, à quoi sert cet article? A faire un point sur les informations qui tournent sur internet à ce sujet, dont certaines ont été mal interprétées. Nokia propose sur son site de vérifier la disponibilité du N9, et même d'être prévenu dès qu'il sera disponible dans un des pays listé. Immédiatement, tout le monde s'est écrié "Il n'y a aucun principaux pays européens ni même les États-Unis, c'est quoi ce bordel?".
[MAJ] Un point sur la disponibilité du Nokia N9 : dates et pays ?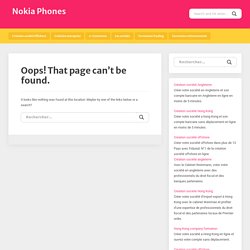 Nokia N10: Concept Smartphone Triple Boot MeeGo Android WP7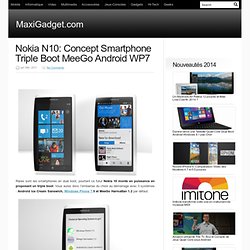 Rares sont les smartphones en dual boot, pourtant ce futur Nokia 10 monte en puissance en proposant un triple boot. Vous aurez donc l'embarras du choix au démarrage avec 3 systèmes : Android Ice Cream Sanswich, Windows Phone 7.5 et MeeGo Harmattan 1.2 par défaut. Outre cette nouveauté majeure, ce superbe mobile tactile dans la lignée des précédents modèles Nokia embarque un large écran tactile capacitif Clear Black OLED de 3.9″ (résolution 480×854), 1Go de RAM, 16 ou 32Go de mémoire extensible via le slot microSD, APN 8 megapixels (optique Carl Zeiss, autofocus, double Flash LED), Capture video full HD 1080p à 30fps, Radio FM avec RDS, Son Dolby, support NFC, port microUSB, USB on-the-go, batterie forte autonomie (380h en 2G et 450h en 3G). Le tout emballé dans une coque blanche en alu anodisé avec vitre Gorilla Glass.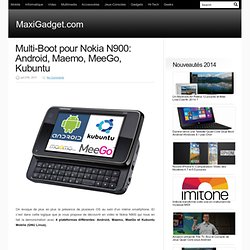 On évoque de plus en plus la présence de plusieurs OS au sein d'un même smartphone. Et c'est dans cette logique que je vous propose de découvrir en vidéo le Nokia N900 qui nous en fait la démonstration avec 4 plateformes différentes: Android, Maemo, MeeGo et Kubuntu Mobile (GNU Linux). A quand une démo MultiBoot sous iOS4, Android, Windows Phone 7, et MeeGo ? Références similaires n900 android,android n900,android sur n900 About author:
Multi-Boot pour Nokia N900: Android, Maemo, MeeGo, Kubuntu
Malgré les récents choix stratégiques de Nokia, le développement de MeeGo avance. Quoi de mieux qu'un vaillant Nokia N900 pour découvrir ce système qui risque malheureusement d'arriver après la bataille ? Depuis que Nokia et Microsoft ont annoncé leur rapprochement, l'avenir de MeeGo, l'OS pour smartphones, tablettes et netbooks sur lequel Nokia et Intel misaient depuis de nombreux mois, semblait compromis. Pourtant, les équipes de développement poursuivent leur travail et le plus gros semble être fait.
MeeGo n'est pas (encore) mort !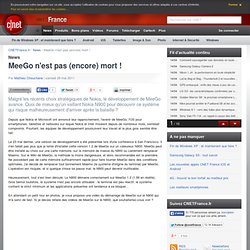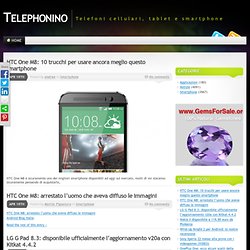 HTC One M8: 10 trucchi per usare ancora meglio questo smartphone HTC One M8 è sicuramente uno dei migliori smartphone disponibili ad oggi sul mercato, molti di voi staranno sicuramente pensando di acquistarlo, LG G Pad 8.3: disponibile ufficialmente l'aggiornamento v20a con Kitkat 4.4.2 LG ha appena annunciato una nuona notizia per tutti gli utenti che hanno acquistato un LG G Pad 8.3: l'uscita ufficiale dell'aggiornamento 4.4.2 Kitkat. Questo nuovo update porta quindi anche se questo tablet tutte le novità di Kitkat offrendo inoltre una migliore gestione delle risorse interne. Con questo aggiornamnento viene quindi migliorata l'esperienza di utilizzo
Nokia N950, il prototipo per sviluppatori, in video: ecco le differenze con il Nokia N9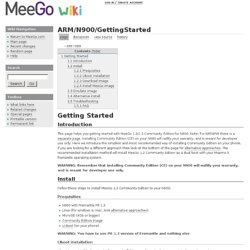 ARM/N900/GettingStarted
Introduction This page helps you getting started with MeeGo 1.2/1.3 Community Edition for N900. Note: For N950/N9 there is a separate page . Installing Community Edition (CE) on your N900 will nullify your warranty, and is meant for developer use only. Here we introduce the simplest and most recommended way of installing Community Edition on your phone, if you are looking for a different approach then look at the bottom of the page for alternative approaches.
NOTE!!! These instructions haven't been checked for a while, so they are likely to be broken. One known fault is that prebuilt MeeGo images use BTRFS nowadays and since Maemo 5 doesn't support it, creating an own image using ext3 is necessary.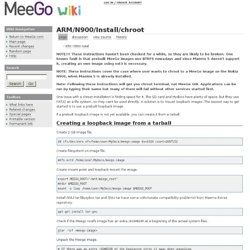 ARM/N900/Install/chroot
Pushing the Nokia N900 to the limit!
November 2nd, 2010 Mike Posted in Advice, Multiple Desktops, Overclocking, Speed | 6 Comments » | 1 views Post Update 19/05/2011: I am currently using Linux 2.6.28.10power47 kernel and the desktop widget MaxCPU to quickly overclock or reduce CPU usage on my Nokia N900.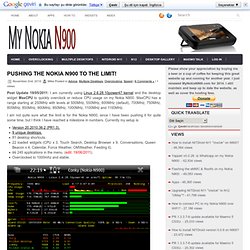 Kernel Power
The enhanced kernel "kernel-power" is compatible with PR1.2 and PR1.3, contain lots of additional features (IPv6, NAT etc) and bugfixes. The kernel can be installed via Application manager from the System section. Installation of the customization package Kernel-Power-Settings is sufficient, as it depends on the kernel page. The custom kernel contains additional modules for IPv6, packet filtering, QoS, NAT, tunneling, kernel configuration, Wifi mesh networking, builtin ext3 for booting from other media, ext4, XFS, reiserfs, NTFS read support, ISO9660, UDF, CIFS, automounter, squashfs, unionfs, device mapper and dm-loop, cryptography, cryptoloop, EFI partitions, UTF8 codepages, mouse+joystick input, PPP, PPTP, serial support, USB hostmode (h-e-n), USB/IP and generic USB device drivers, battery info, overclocking and kexec support. Note: This page is under construction and based on the overclocking/undervolting instructions.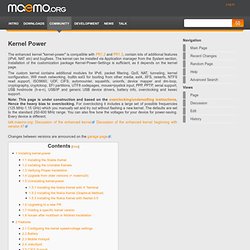 [Updated 6.6] WebOS Games files for N900 (DEBIAN) Accordingly Compatibility List : PC Tweaks
Voilà déjà un an que je suis en possession du Nokia N900 . Je suis toujours aussi satisfait de ce téléphone, même si je déplore toujours le manque d'applications commerciales. Dernièrement, je me suis remis un peu à le bidouiller pour changer son apparence. Voici les captures d'écran du résultat final, cela vous donnera peut-être des idées pour le vôtre. Le thème que j'utilise actuellement se nomme Carbon Steel, c'est un dérivé du thème Carbon avec les icônes Faenza et la police de caractères Ubuntu en plus : Les logiciels visibles de la gauche vers la droite sont : Téléphone - Contacts - Conversations - Lecteur Multimédia - Gestion d'applications - France 24 - Terminal - Stopwatch (Chronomètre) - Calculatrice - SeriesFinales (gestion de séries) - Notes - Photos - Grr (Google Reader).
Personnalisation du Nokia N900 #1
A video of Meego running on a Nokia N900. | My Nokia N900
April 2nd, 2011 Mike Posted in Maemo Community , Meego , Video | No Comments » | 1,035 views The news on the forums at talk.maemo.org is that a Meego version will be rolling out a RC1 version very soon followed by RC2, RC3, RC4 a week a part and there will be a final version released on the 28th April. The thread is quite long with various people moaning about the lack of news from Nokia, but the video below is quite pleasing. It is still early days or Nokia are not showing us everything.
Version MeeGo 1.1 pré-alpha pour tablettes Il y a quelques jours fut présentée une première vidéo nous montrant l'interface de MeeGo 1.1 (pré-alpha) pour tablettes . Pour rappel, voici cette vidéo (déjà publiée sur ce blog), que nous allons décortiquer dans la suite de ce billet : Cette interface, "MeeGo for Tablets", n'est qu'une des nombreuses interfaces qui verront le jour avec MeeGo, parmi lesquelles on trouvera une version pour PC, "MeeGo for Netbooks", une pour voiture "MeeGo IVI", (IVI pour "In Vehicule Infotainment"), et une pour téléphone (enfin plus précisément ce que l'on appelle "smartphone") "MeeGo Handset", dont on attend une présentation officielle le 30 juin. Pour revenir à cette interface pour tablettes, notez bien qu'il s'agit d'une version pré-alpha (donc très tôt dans le développement), et donc que tout ne sera pas forcément implémenté tel quel dans la version finale (sans parler des éventuels bugs présents dans la vidéo). Explorons la vidéo
Meego OS - Meego-os.fr
[edit] Introduction The wait is over! We are proud to announce the MeeGo Coding Competition 2011! As successor it will follow the good example of the community driven Maemo Coding Competition 2010. Quim Gil wrote a lot of good things about this "grass roots community success".
MeeGo Coding Competition 2011
By Tarmo Virki, European Technology Correspondent TAMPERE, Finland Fri Apr 15, 2011 11:12am EDT TAMPERE, Finland (Reuters) - Technology firms such as LG Electronics are moving toward adopting the Linux-based MeeGo operating system after Nokia abandoned it, one of the project's leaders said. Open-source MeeGo was created last year by the merger of Nokia and Intel's Linux-based platforms, but Nokia pulled back from the project in February when the Finnish firm said it would focus on Microsoft software instead. "It's opening opportunities for the others to come in.
MeeGo sees interest from others after Nokia shift
snsanalytics
[N900] Mettre à jour vers Flash 10.1
How To Easily Overclock Your Nokia N900 In Under Two Minutes - maemo's soup
maemo Basics: Overclock your N900
Nokia N900 - Lea Linux
Recovering a Bricked Nokia #N900
N900
Android for Nokia Internet Tablets (NITdroid)
Astuces pour Maemo 5 et le Nokia N900
Flasher firmware Nokia N900 Maemo - Lea Linux
Plus de mise à jour de Maemo ? Pas grave, les Community SSU sont là. - nokia-n900.fr
Community SSU
Kernel Power
Tag - Développement - nokia-n900.fr
Guide de démarrage pour développer sous Maemo 5 - nokia-n900.fr
Forum Nokia - Qt - Tools
tutoriel:pys60_sur_des_portables_nokia
Applications