Future
What happens when objects start to post their position and status on the internet? Amazing things. Massive data collection could change the world. Companies all over the globe are working on ways to use tracking and internet connectivity to give new digital life to physical objects and locations. French company Violet's special stamps trigger email alerts and messages when you move items around your house. Drop your keys on a sensor, and your spouse can know you got home safely. ioBridge gives you the hardware and software to hack together devices that let your Twitter Feed control your TV, or allow your garage door to have a Facebook Status.
Building an Internet of Things (video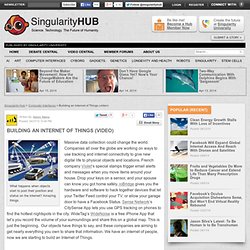 Web 2.0 Expo SF 2010: Tim O'Reilly, "State of the Internet Opera
The Future Of The Web: Where Will We Be In Five Years?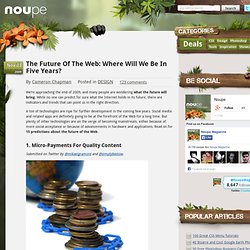 Nov 03 2009 We're approaching the end of 2009, and many people are wondering what the future will bring. While no one can predict for sure what the Internet holds in its future, there are indicators and trends that can point us in the right direction.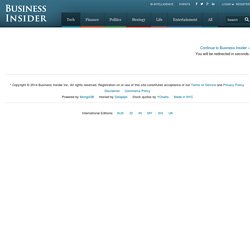 There is a trend evolving at media companies both big and small that promises to have a remarkably positive impact on what you read, watch, and share on the web: Curation. It's not a popular thing to say that things are okay in media. In fact, the changes taking place are useful, necessary, and will in short order result in better editorial experiences, because as shown in the press daily, the sky is falling in old media. But, happily, the future is right around the corner.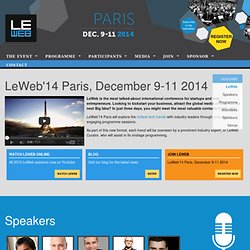 LeWeb is the most talked-about international conference for startups and web entrepreneurs. Looking to kickstart your business, attract the global media or discover the next Big Idea? In just three days, you might meet the most valuable contacts of the year. LeWeb Paris is back in Paris December 09-11 2014, gathering today's brightest technological innovators and visionaries, we will explore several market segments and their potential trajectory, as well as technology as a whole.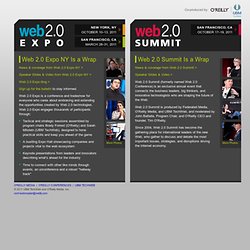 News & coverage from Web 2.0 Summit > Speaker Slides & Video > Web 2.0 Summit (formerly named Web 2.0 Conference) is an exclusive annual event that connects the business leaders, big thinkers, and innovative technologists who are shaping the future of the Web. Web 2.0 Summit is produced by Federated Media, O'Reilly Media, and UBM TechWeb, and moderated by John Battelle, Program Chair, and O'Reilly CEO and founder, Tim O'Reilly. Since 2004, Web 2.0 Summit has become the gathering place for international leaders of the new Web, who gather to discuss and debate the most important issues, strategies, and disruptions driving the Internet economy.
awesome things that haven't been invented
/aiGesture: Video Gesture Recognition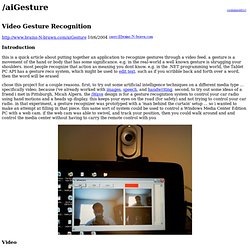 http://www.brains-N-brawn.com/aiGesture 10/6/2004 Introduction this is a quick article about putting together an application to recognize gestures through a video feed. a gesture is a movement of the hand or body that has some significance. e.g. in the real-world a well known gesture is shrugging your shoulders. most people recognize that action as meaning you dont know. e.g. in the .NET programming world, the Tablet PC API has a gesture reco system, which might be used to edit text. such as if you scribble back and forth over a word, then the word will be erased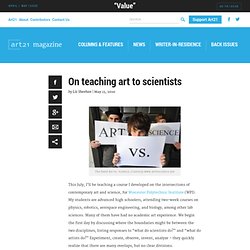 The band Art vs. Science, Courtesy www.artvsscience.net This July, I'll be teaching a course I developed on the intersections of contemporary art and science, for Worcester Polytechnic Institute (WPI). My students are advanced high schoolers, attending two-week courses on physics, robotics, aerospace engineering, and biology, among other lab sciences. Many of them have had no academic art experience.
On teaching art to scientists