Music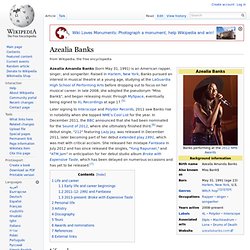 Azealia Banks
Azealia Amanda Banks (born May 31, 1991) is an American rapper, singer, and songwriter. Originally from Harlem , New York , Banks at a young age pursued an interest in musical theatre , later becoming interested in a career as a recording artist. She adopted the pseudonym "Miss Bank$" and began releasing her music onto the Internet in early 2009. [ 1 ] Banks signed to Interscope Records and Polydor Records and rose in notability in 2011 when she topped NME 's "Cool List" for the year. On December 5, 2011, the BBC announced that Banks had been nominated for the Sound of 2012 , where she ultimately finished third. [ 2 ] Her debut single, " 212 " featuring Lazy Jay, was released on December 6, 2011, [ 3 ] later becoming part of her EP 1991 . She released her mixtape Fantasea in July 2012 and plans to digitally release " Yung Rapunxel " as the first single from her debut studio album Broke with Expensive Taste on April 16, 2013.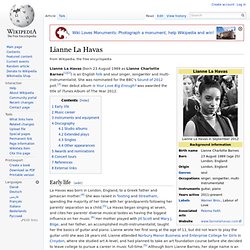 Lianne La Havas
Lianne La Havas (born 23 August 1989) is an English folk and soul singer, songwriter and multi-instrumentalist. She was nominated for the BBC's Sound of 2012 poll. [ 3 ] [ edit ] Early life La Havas was born in London , England to a Greek father and Jamaican mother. [ 4 ] She was raised in Tooting and Streatham , spending the majority of her time with her grandparents following her parents' separation as a child. [ 5 ] La Havas began singing at seven and cites her parents' diverse musical tastes as having the biggest influence on her music. [ 6 ] Her mother played with Jill Scott and Mary J.
No Room for Doubt (Later with Jools Holland)
Lana Del Rey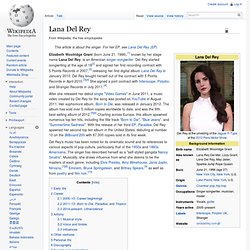 Elizabeth Woolridge Grant (born June 21, 1986), better known by her stage name Lana Del Rey , is an American singer-songwriter . Del Rey initially began performing in clubs in New York City at age 18 and signed her first recording contract when she was 20 years old with 5 Points Records, releasing her first digital album Lana Del Ray a.k.a. Lizzy Grant in January 2010. Del Rey bought herself out of the contract with 5 Points Records in April 2010 and signed a joint contract with Interscope , Polydor , and Stranger Records in October 2011. Releasing her debut single " Video Games " in June 2011, a music video created by Del Rey for the song was posted on YouTube in August 2011.
Amy Jade Winehouse (14 September 1983 – 23 July 2011) was an English singer and songwriter known for her deep contralto vocals and her eclectic mix of musical genres including R&B , soul and jazz . [ 2 ] [ 3 ] Winehouse's 2003 debut album, Frank , was critically successful in the UK and was nominated for the Mercury Prize . Her 2006 follow-up album, Back to Black , led to six Grammy Award nominations and five wins, tying the then record for the most wins by a female artist in a single night, and made Winehouse the first British female to win five Grammys, [ 4 ] [ 5 ] including three of the " Big Four ": Best New Artist, Record of the Year and Song of the Year. In 2007 she won a Brit Award for Best British Female Artist; she had also been nominated for Best British Album.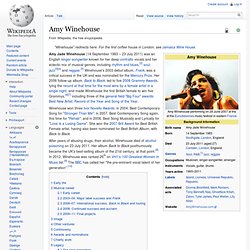 Amy Winehouse
Wake Up Alone Live Shepards Bush
Tears Dry On Their Own Live
Rehab & Back To Black (Live at Isle of Wight 2007)
Jeff Buckley
Jeffrey Scott " Jeff " Buckley (November 17, 1966 – May 29, 1997), raised as Scotty Moorhead , [ 1 ] was an American singer-songwriter and guitarist. He was the son of Tim Buckley , also a musician. After a decade as a session guitarist in Los Angeles , Buckley amassed a following in the early 1990s by playing cover songs at venues in Manhattan 's East Village , such as Sin-é , gradually focusing more on his own material. After rebuffing much interest from record labels [ 2 ] and his father's manager Herb Cohen , [ 3 ] he signed with Columbia , recruited a band, and recorded what would be his only studio album, Grace .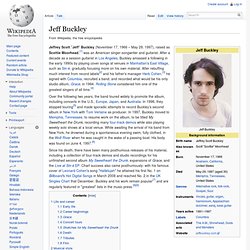 Lilac Wine Live
Everybody Here Wants You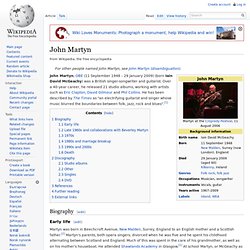 John Martyn
John Martyn , OBE (11 September 1948 – 29 January 2009) (born Iain David McGeachy) was a British singer-songwriter and guitarist. Over a 40 year career he released 21 studio albums, working with artists such as Eric Clapton and David Gilmour . He has been described by The Times as "an electrifying guitarist and singer whose music blurred the boundaries between folk, jazz, rock and blues". [ 1 ]
Small Hours
Glory Box