Roms en Europe
August 11, 2010 |
Mass Demolitions of Roma Settlements Planned In The Middle of "Decade of Roma Inclusion"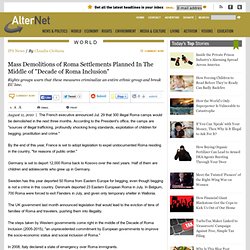 "If France sends the Roma back to Romania, they will spend several days saying hello to their family and then come back as soon as they can."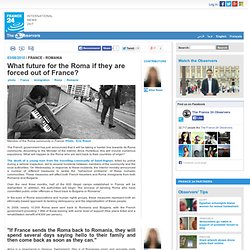 What future for the Roma if they are forced out of France?
ERIO - European Roma Information Office
Assemblée parlementaire du Conseil de l'Europe
Resolution 1740 (2010) 1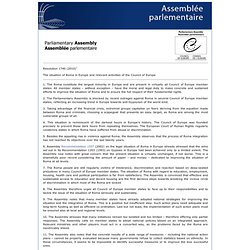 Europe - Journalists Condemn French Crackdown on Roma and Warn Over Rise of Racism
The International Federation of Journalists and its regional body the European Federation of Journalists today condemned a crackdown by French authorities on the country's minority Roma community, warning that it will encourage xenophobia and intolerance.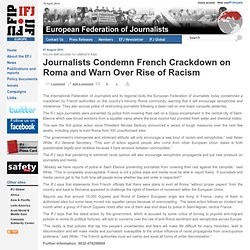 Où vont les millions de l'aide européenne ? | Presseurop – français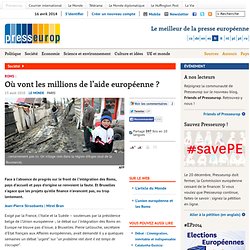 ...certainement pas ici.
Les Roms à nouveau pointés du doigt | Presseurop – français
Une femme Rom dans un campement installé en bordure d''autoroute à Strasbourg Après quelques incidents violents, le président français a décidé de s'attaquer aux "problèmes que posent le comportement de certains Roms et gens du voyage", en préconisant notamment des expulsions de ceux qui sont étrangers.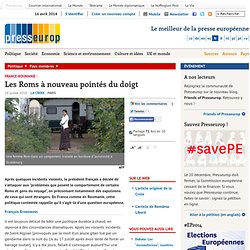 « L'UE est un nouvel espoir pour les Roms »
Florin Ciaoaba et sa soeur (Brigitta Gabrin)
Les villages-Rroms, entre rêve politique et réalité sociale
Photo : ©hidden szide/Flickr Quatre ans après leur création en France , les « villages d'insertion » sont aujourd'hui présentés comme le « paradis des Rroms ». Les associations européennes de défense des minorités sont toutefois beaucoup plus sceptiques quant à leur bienfait.
Amnesty International appelle l'Union européenne (UE) et ses États membres à prendre des mesures concrètes pour rompre le cycle de la discrimination, de la pauvreté et de l'exclusion que subissent les communautés roms en Europe.
L'Europe doit rompre le cycle de la discrimination envers les Roms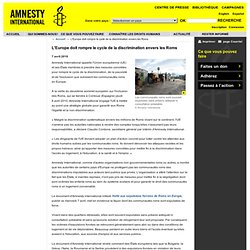 La population rom d'Europe continue à être en butte à des discriminations massives