Culture
War. Thule. Ancient geography[edit] Now Pytheas of Massilia tells us that Thule, the most northerly of the Britannic Islands, is farthest north, and that there the circle of the summer tropic is the same as the Arctic Circle.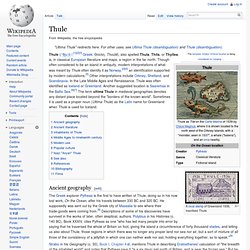 But from the other writers I learn nothing on the subject—neither that there exists a certain island by the name of Thule, nor whether the northern regions are inhabitable up to the point where the summer tropic becomes the Arctic Circle. The Roman geographer Pomponius Mela placed Thule north of Scythia.[10] Sybaris. Sybaris (Ancient Greek: Σύβαρις; Italian: Sibari) was an important city of Magna Graecia.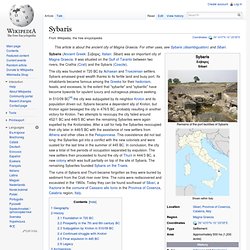 It was situated on the Gulf of Taranto between two rivers, the Crathis (Crati) and the Sybaris (Coscile). In 510/09 BC[A] the city was subjugated by its neighbor Kroton and its population driven out. Sybaris became a dependent ally of Kroton, but Kroton again besieged the city in 476/5 BC, probably resulting in another victory for Kroton. Two attempts to reoccupy the city failed around 452/1 BC and 446/5 BC when the remaining Sybarites were again expelled by the Krotoniates. After a call for help the Sybarites reoccupied their city later in 446/5 BC with the assistance of new settlers from Athens and other cities in the Peloponnese. Asian culture. Chantecler (play) Chantecler is a verse play in four acts, written by Edmond Rostand.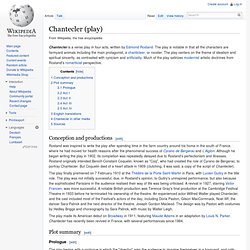 The play is notable in that all the characters are farmyard animals including the main protagonist, a chanticleer, or rooster. The play centers on the theme of idealism and spiritual sincerity, as contrasted with cynicism and artificiality. Much of the play satirizes modernist artistic doctrines from Rostand's romanticist perspective.
History. Languages. Literature. Physics/Univers/Theories. Personalities. Reviste.
---