Books
The Sorrows of Young Werther. The Sorrows of Young Werther (German: Die Leiden des jungen Werthers) is an epistolary and loosely autobiographical novel by Johann Wolfgang von Goethe, first published in 1774; a revised edition of the novel was published in 1787.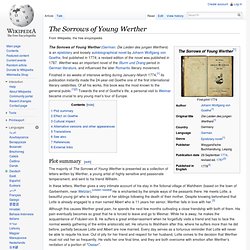 Werther was an important novel of the Sturm und Drang period in German literature, and influenced the later Romantic literary movement. Finished in six weeks of intensive writing during January–March 1774,[1] its publication instantly made the 24-year-old Goethe one of the first international literary celebrities. The Red and the Black. ( French pronunciation: [lə.ʁuʒ.e.lə.nwaʁ] ; French for ), 1830, by Stendhal , is a historical psychological novel in two volumes, [ 1 ] chronicling a provincial young man's attempts to rise socially beyond his modest upbringing with a combination of talent and hard work, deception and hypocrisy — yet who ultimately allows his passions to betray him.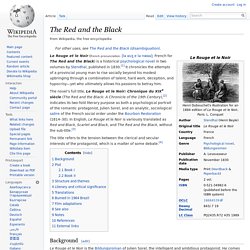 The novel's composite full title, ( ), [ 2 ] indicates its two-fold literary purpose, a psychological portrait of the romantic protagonist, Julien Sorel, and an analytic, sociological satire of the French social order under the Bourbon Restoration (1814–30). In English, is variously translated as , , and , without the sub-title. [ 3 ] [ edit ] Background Occurring from September 1826 until July 1831, is the Bildungsroman of Julien Sorel, the intelligent, ambitious, protagonist from a poor family, [ 1 ] who fails to understand much about the ways of the world he sets to conquer. Catch-22. Catch-22 is a satirical novel by the American author Joseph Heller.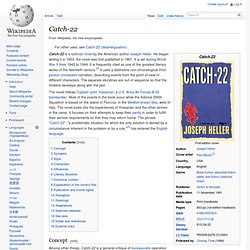 He began writing it in 1953; the novel was first published in 1961. It is set during World War II from 1942 to 1944. It is frequently cited as one of the greatest literary works of the twentieth century.[2] It uses a distinctive non-chronological third-person omniscient narration, describing events from the point of view of different characters. The separate storylines are out of sequence so that the timeline develops along with the plot. Amok (novella) Amok is a novella by the Austrian author Stefan Zweig.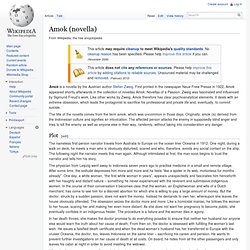 First printed in the newspaper Neue Freie Presse in 1922, Amok appeared shortly afterwards in the collection of novellas Amok: Novellas of a Passion. Zweig was fascinated and influenced by Sigmund Freud's work. Like other works by Zweig, Amok therefore has clear psychoanalytical elements. It deals with an extreme obsession, which leads the protagonist to sacrifice his professional and private life and, eventually, to commit suicide. The title of the novella comes from the term amok, which was uncommon in those days. Shangri-La. Many scholars believe that Shangri-La is Shambhala, a mythical kingdom in Tibetan Buddhist tradition, which was sought by Eastern and Western explorers.[2] Etymology[edit] The phrase "Shangri-La" most probably comes from the Tibetan Standard Tibetan: ཞང་,"Shang" - a district of Ü-Tsang, north of Tashilhunpo[3]" + Standard Tibetan: རི, pronounced "ri", "Mountain" = "Shang Mountain" + Standard Tibetan: ལ, Mountain Pass, which suggests that the area is accessed to, or is named by, "Shang Mountain Pass".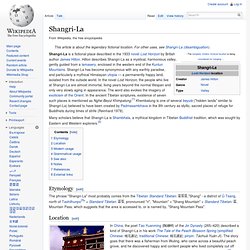 Location[edit] A popularly believed physical inspiration for Hilton's Shangri-La is the Hunza Valley in northern Pakistan, close to the Chinese border, which Hilton visited a few years before Lost Horizon was published.[5] Being an isolated green valley surrounded by mountains, enclosed on the western end of the Himalayas, it closely matches the physical description in the novel. Taras Bulba. Taras Bulba (Russian: Тара́с Бу́льба; Ukrainian: Тара́с Бу́льба, Tarás Búl'ba) is a romanticized historical novella by Nikolai Gogol.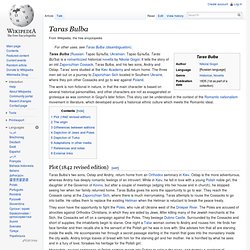 It tells the story of an old Zaporozhian Cossack, Taras Bulba, and his two sons, Andriy and Ostap. Taras' sons studied at the Kiev Academy and return home. 24 hours. We hope you all had fun and picked up a bargain, here's the full list of titles; FOR THE WIN Do You Think You're Clever?
NOISY SPOOKY BOOK Screen Burn - Television With It's Face Torn Off ART IDEAS DRAWING PACK Written in Stone Creative Nature Photography RACHELS FAVOURITE FOOD AT HOME PB I Am Legend Blood Sinister Book of Heroes I Am God Agatha Christie AUTOBIOGRAPHY PB PADDINGTON SUITCASE OCTONAUTS FROWN FISH HB Lord Of The Flies The Sealed Letter Cupcakes GARDEN BIRD SONGS AND CALLS HB Irish Time Atlas Whoopies Time Machine MEMORY BOOT CAMP Moab Is My Washpot Posted by Adam.
---