Knuffels
Pillow Personality with Fairfield Processing: Playful. I don't know about you, but I spent a good chunk of my childhood hoping, wishing, I could fly like Peter Pan.
I never actually jumped off the roof of the garden shed, but... I climbed up there and thought about it! Tee se itse -valas. You can find the tutorial in English here.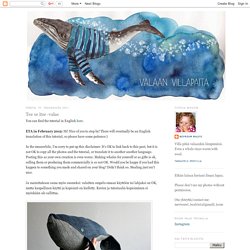 ETA in February 2012: Hi! Nice of you to stop by! Stuffed Whale Made of Old Denim Jeans. Maker*land: Make a hedgehog pincushion - tutorial. I love hedgehogs.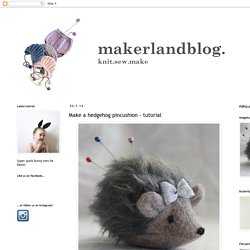 I would consider moving to New Zealand just so that I could have them living in my yard, even though I hear that they can be a real nuisance. Oh, but they are so cute! And to be able to say hedgehogs live at the bottom of your garden would be a rather amazing thing to say, as if you lived in a children's story book. They are certainly a nicer looking than the snotty slugs and fuzzy-fat-goo-squirting caterpillars I keep accidentally stepping on in my own garden.
Simpático y colorido erizo de fieltro. Solountip Hoy vamos a agregar un animalito más a los muñecos de fieltro que hemos mostrado aquí en Las Manualidades.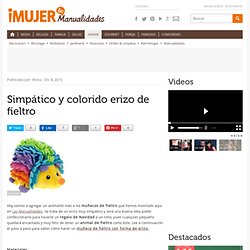 Se trata de un erizo muy simpático y será una buena idea poder confeccionarlo para hacerle un regalo de Navidad a un niño, pues cualquier pequeño quedará encantado y muy feliz de tener un animal de fieltro como éste. Lee a continuación el paso a paso para saber cómo hacer un muñeco de fieltro con forma de erizo. Materiales: While She Naps: No-Sew Fleece Octopus Tutorial. I picked up this craft booklet, circa 1966, a few months ago at a church rummage sale and got inspired to update one of its projects.
The yarn octopus has long been a classic toy to make for children, and I've transformed it into an even easier, and perhaps more cuddly, no-sew fleece octopus! According to my 8-year-old, her fleece octopus is "the cutest thing ever. " You'll need: -16" x 16" piece of fleece -styrofoam ball 3" in diameter. Sock Monkey. Gosh… I am supposed to sew some thing for the Earth Month this April, but I can't wait to sew these sock monkeys.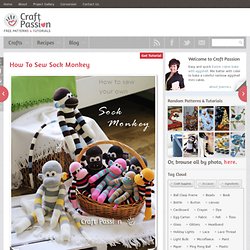 My hands simply took over my head and see what I did after a few days and nights of sewing…. a house full of sock monkeys!!!! Do you love them? I have seen a lot of sock monkey photos hanging around friends' photo albums in many photo sharing websites, so envy. These sock monkeys are so cute and so adorable that I would want to hug one, I bet my kids would love to have them to accompany too when mommy is busy with works. Therefore, I went out to shop for some socks thinking that may be 4 to 5 pairs should be enough, I ended up with 20 pairs of colorful socks, simply can't resist for not buying ;-). M_Richard_the_Whale.pdf (application/pdf-object) Owl Stuffies Tutorial. Ever since I made my son's Halloween costume I've been having a lot of fun sketching and playing with the idea of making an owl stuffie.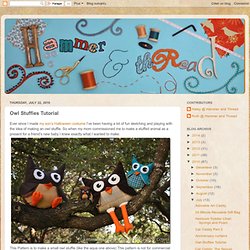 So when my mom commissioned me to make a stuffed animal as a present for a friend's new baby I knew exactly what I wanted to make. This Pattern is to make a small owl stuffie (like the aqua one above) This pattern is not for commercial use or monetary gain Supplies 3 coordinating fabrics (one of them should be a solid color).a small amount of orange felt for the beakPolyfillScissorsFabric paint or felt for the eyesSewing machineNeedle and threadPattern below Open this image in a new tab and print at full size. Oopsie the Octopus. A small scrap of wool felt in white and pink.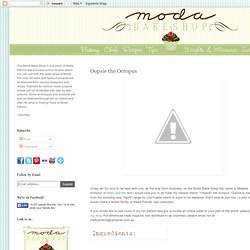 White, pink and dark brown 6 strand embroidery floss to match. Good quality polyester toy fill. Giant Halloween Spider Tutorial: Craft With Your Kids Week, Project Five. This might not entirely count as a project with my kids, since mostly they just assisted in stuffing the spider once it was finished, but it took some time so I'm counting it anyways!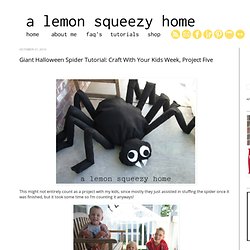 In past years, we've always made this spider that we found on Family Fun's website a couple years ago. A little tacky? Yes, but I didn't mind because this is one of the things my kids look forward to EVERY year. Tiny Kitten in a Box. What you need:~ fleece scraps -- black, white, and light and dark of a color of your choosing -- I will call it blue throughout the tutorial ~ thread (I used white for everything!)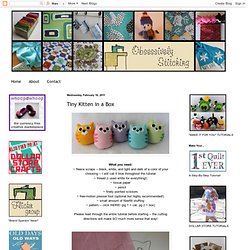 ~ tissue paper. Lisa's Craft Blog: Tutorial: Big Zakka Owl Stuffie. Kojotutorial- a very fluffy porcupine plushie. My poor son. He has spent more hours in JoAnn's and Fancy Tiger (our local fabric shop) than any little boy should ever have to endure. And he knows his way around an Anthropologie, that one. It's a little dangerous to take a three-year-old boy into Anthro, what with the teetering stacks of beautifully patterned dishes, just beckoning to him. Funky Fabric Birds / Sewing and Quilting. These fun, chubby stuffed birds in Autumn colors will be a sweet addition to my fall décor this year.
They are a modified version of stuffed fabric balls that I've made in the past. Instead of the usual six panels, I used just four to change the shape a bit and they were the perfect project for using up some fabric scraps. Instructions: 1. Use template to trace 8 half petals onto coordinated fabric. Sewing Tuesday: Schneeky Schnake. Hi there! This week I'm going to show you how to make this Schneeky Schnake. He's hiding, in camouflage against my red curtains at the moment. You can see him a bit better here. He likes to hide and climb so it took a while to get him to keep still! You will need: Tutorial and Pattern: Recycled Mooshy Belly Bunny. This all came about because of a large multi-colored stack of stripey tees I have had taking up space in my workshop for months.
The t-shirts were all thrifted and reclaimed and salvaged from our own outgrown boxes of clothing, of course. When I started collecting them, I admit, I had no idea what I intended to do with them. But those colorful stripey tees kept calling my name every ime I went to the thrift store...even Mr Beeper commented when folding a freshly washed pile how lovely they were to look at. Yep. And so here we are, a little Mooshy Belly Bunny tutorial and pattern download for you so you can cut into some of your own discarded stripey tees and get something simple and sweet back from it. Green Kitchen: Craft Blog, etc.
Angry Birds -- Plush! Summer Craft Boredom Buster: A Cute Caterpillar Craft Made from Repurposed Tights.
---