Java
Lesson: Regular Expressions (The Java™ Tutorials > Essential Classes) This lesson explains how to use the java.util.regex API for pattern matching with regular expressions.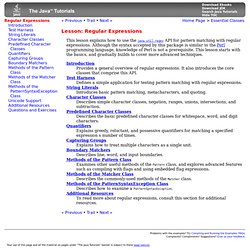 Although the syntax accepted by this package is similar to the Perl programming language, knowledge of Perl is not a prerequisite. This lesson starts with the basics, and gradually builds to cover more advanced techniques. Features new in Java 7 Forum at JavaRanch. Java SE Technical Documentation. Java Applets,Free Java Applet,Java Applets Tutorial,Download Java Applets,Java Applet Tutorials. Learn how to download applets and decompile Java class files - Part 2. By Alvin Alexander.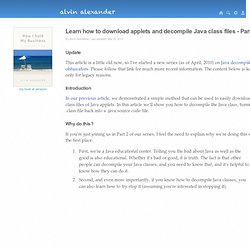 Last updated: Sep 16, 2013 Update. Java, ProGuard, and Ant - How to obfuscate Java class files with ProGuard | Java obfuscation | obfuscate Java classes. By Alvin Alexander.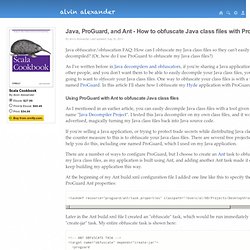 Last updated: Sep 16, 2013 Java obfuscator/obfuscation FAQ: How can I obfuscate my Java class files so they can't easily be decompiled? (Or, how do I use ProGuard to obfuscate my Java class files?) As I've written before in Java decompilers and obfuscators, if you're sharing a Java application with other people, and you don't want them to be able to easily decompile your Java class files, you're going to want to obfuscate your Java class files. ProGuard. yGuard - Java Bytecode Obfuscator and Shrinker. yGuard is a free Java bytecode obfuscator and shrinker that improves your software deployment by prohibiting unwanted access to your source code and drastically shrinking the processed Jar files at the same time.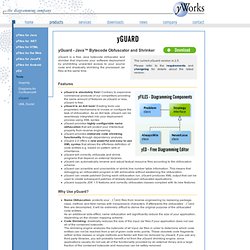 The current yGuard version is 2.5. Please refer to the requirements and changelog for details about the latest version. Features yGuard is absolutely free!
Java
---