Steve Jobs
Steve Jobs: 'Computer Science Is A Liberal Art' Hide caption A photographer uses his iPhone to take a picture of a tribute to Apple co-founder Steve Jobs in front of an Apple store in London.
Jobs, 56, died Wednesday after a long battle with pancreatic cancer. Peter Macdiarmid/Getty Images When computer visionary Steve Jobs died Wednesday, many people felt a sense of personal loss for the Apple co-founder and former CEO. 20 Amazing Life Lessons We Can All Learn From Steve Jobs. Like most of us, Steve Jobs personality had many sides.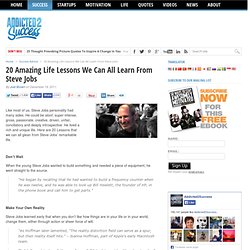 He could be aloof, super-intense, gross, passionate, creative, driven, unfair, conciliatory and deeply introspective. He lived a rich and unique life. Steve Jobs interviewed just before returning to Apple. Steve Jobs: "I Admire Mark Zuckerberg For Not Selling Out" The 60 Minutes interview with Steve Jobs biographer Walter Isaacson is up on the web, but one of the most interesting parts is an outtake that didn't make it into the televised segment.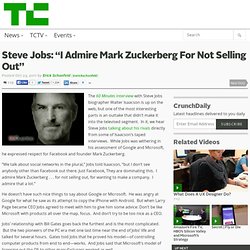 In it, we hear Steve Jobs talking about his rivals directly from some of Isaacson's taped interviews. While Jobs was withering in his assessment of Google and Microsoft, he expressed respect for Facebook and founder Mark Zuckerberg. Steve Jobs Bio: Its 6 Most Surprising Reveals | Gadget Lab. Walter Isaacson's biography of Steve Jobs doesn't go on sale until Monday, but advanced copies have been delivered to the New York Times, Associated Press and Huffington Post, all of which have been dribbling out telling insights and factoids about Apple's former CEO.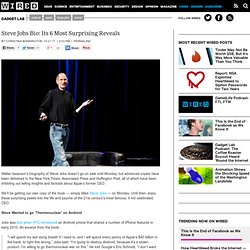 We'll be getting our own copy of the book — simply titled Steve Jobs — on Monday. Until then, enjoy these surprising peeks into the life and psyche of the 21st century's most famous, if not celebrated, CEO. Jobs told biographer that he cracked the code to building an HDTV. The Washington Post details an interesting revelation from Steve Jobs to biographer Walter Isaacson prior to his death earlier this month.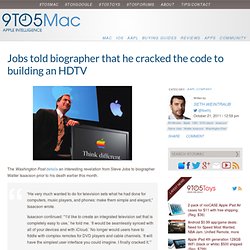 "He very much wanted to do for television sets what he had done for computers, music players, and phones: make them simple and elegant," Isaacson wrote.Isaacson continued: "'I'd like to create an integrated television set that is completely easy to use,' he told me. 'It would be seamlessly synced with all of your devices and with iCloud.' Steve Jobs' final wish: to get to know his children before it was too late - Americas, World. The Apple founder's biographer, Walter Isaacson, said that when he visited Mr Jobs a few weeks ago, he found him curled up in pain in a downstairs bedroom because he had become too weak to climb stairs.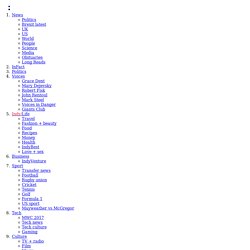 He was nonetheless surprisingly cheerful. "His mind was still sharp and his humour vibrant," Mr Isaacson recalled. Mr Jobs then explained why, despite his famous reclusiveness, he had decided to co-operate with a biographer. "I wanted my kids to know me," Mr Isaacson recalled Mr Jobs saying, in a posthumous tribute the biographer wrote for Time magazine. "I wasn't always there for them, and I wanted them to know why and to understand what I did.
" Steve Jobs: Pictures of gaunt Apple boss have financial world talking. By Daily Mail Reporter Updated: 18:51 GMT, 21 February 2011 Pictures of a gaunt Steve Jobs out in California with his wife have prompted financial analysts to ask serious questions about the health of the Apple CEO.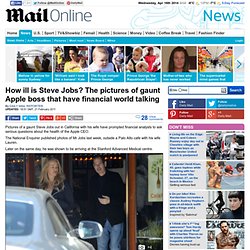 The National Enquirer published photos of Mr Jobs last week, outside a Palo Alto cafe with his wife Lauren. Later on the same day, he was shown to be arriving at the Stanford Advanced Medical centre. Steve Jobs death: Apple boss' tangled family and who could inherit his $8.3bn fortune. Apple co-founder survived by two sisters, wife and their three childrenBut he also had love child Lisa Brennan-Jobs with Chrisann BrennanHis Syrian biological father never had conversation with Jobs as an adult By Mark Duell Updated: 13:23 GMT, 7 October 2011 Steve Jobs's tangled family of a forgotten father, long-lost sister and love child means lawyers may face a delicate task breaking up his $8.3billion fortune.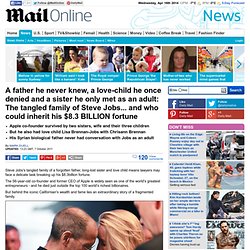 Steve Jobs dead: Friends and relatives gather at his mansion as shrines pop up around the globe. Shrines pop up around the world - from outside his California mansion to Tokyo, JapanPresident Obama lead tributes which flooded the web within minutes of his death being confirmedVisionary genius battled pancreatic cancer for eight yearsDeath came six weeks after he stepped down as Apple CEO and just one day after the launch of the new generation iPhonePre-orders for authorised biography soar to No. 1 on iTunes and Amazon'We are deeply saddened to announce that Steve Jobs passed away today,' Apple's board of directors said in statement By Paul Bentley and Laurie Whitwell and John Stevens and Rose Parker Updated: 15:01 GMT, 7 October 2011 Missed: Tributes dedicated to Steve Jobs have popped up around the world since his passing on Wednesday He was the visionary who revolutionised the way people communicate throughout the world.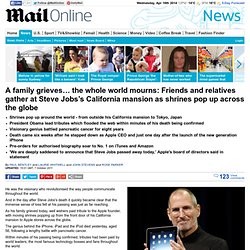 And in the day after Steve Jobs's death it quickly became clear that the immense sense of loss felt at his passing was just as far reaching. Steve Jobs: Video of gaunt Apple boss weaving on his feet spark new rumours about his health - GhanaNation News. Steve Jobs: 5 of His Most Inspiring Quotes: Smitten: Sex, Love & Life. Thursday, 10/6/2011 at 10:59AM Like many, I learned of Steve Jobs' passing last night on an Apple device.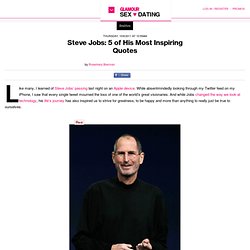 While absentmindedly looking through my Twitter feed on my iPhone, I saw that every single tweet mourned the loss of one of the world's great visionaries. Reactions From Around The World To The Passing Of Steve Jobs. Steve Jobs passed away at the age of 56 today, and the report came in at 4:35 pm PDT. All over the world very iconic people are paying their respects, and we have gathered a few. Jobs is survived by wife, Laurene, and three children. It's as sad as can be, and a time for everyone to say goodbye. Steve Jobs' Family: Steve died peacefully today surrounded by his family.In his public life, Steve was known as a visionary; in his private life, he cherished his family. Steve Jobs With His Wife Laurene Powell at Apple. Who is Steve Jobs? | Ali Lars's Blog. Steve Jobs: From the love child he denied to the temper that terrified his staff, the dark side of the iPod god. By Tom Leonard Updated: 09:18 GMT, 26 August 2011 His worshippers number in the hundreds of millions, the most devoted of whom will queue for days outside his 'temples' to wait for his latest gift to mankind.
Steve Jobs, 56, founder and visionary leader of Apple, is for many the god of our consumer age. But he's not immortal. Having battled cancer since 2004, the chief executive of one of the world's most prized and influential companies is stepping down. AzR - In Dedication, Steve (Only Mac Sounds Used)
Steve Jobs Dead | Apple Chairman & Co-Founder Steve Jobs Dead. Steve Jobs: A lasting impression Steve Jobs has passed away aged 56, but the technological visionary has left behind plenty for us to remember him by. Steve Jobs dies, and the Internet pays tribute to its hero - BlogPost. Posted at 03:17 AM ET, 10/06/2011 Oct 06, 2011 07:17 AM EDT TheWashingtonPost The news rippled through a restaurant in Washington Wednesday.
"Steve Jobs died," one person would report to the next. Reflexively, people reached out to their iPhones, most already perched on the tables, inches from their owner's fingers.
---