Applications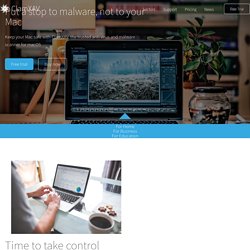 ClamXav is a free virus scanner for Mac OS X. It uses the very popular ClamAV open source antivirus engine as a back end and has the ability to detect both Windows and Mac threats. ClamXav can be setup up as passive or active: scan only the files you tell it to or your entire hard drive, whichever you prefer; you can also choose to activate Sentry to monitor your hard drive and scan new files as they arrive. Introducing ClamXav 2
Essential Software for Mac Switchers: 23 Must-Have Apps
If you recently made the switch to Mac from a Windows computer, you might be a little "lost" regarding what software is supposed to replace your old setup, or what apps are particularly worthwhile to own on the Mac platform. One of the great things about having a Macintosh is the amazing range of beautiful apps available, many of which have the potential to add a great deal to your computing experience. Today, we're taking a look at some of the apps that we find vital and very useful, as well as software that makes using a Mac much easier than Windows! Wine Bottler / Parallels Once you make the switch from Windows, you might miss some software that you used to have there.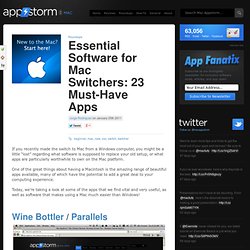 December 28 2013 - 3:04 pm Track Down Purchases v2.3 will examine each track in the entire iTunes library—or a selection of tracks—for items purchased from the iTunes Store (audio, video, and audiobooks) and then sort them by either the purchaser's name or account ID into discrete playlists, eg: "Purchased by Tom Ryan" or "Purchased by tomryan@email.com". Purchaser information is gleaned by examining the track's local file (purchase info for iTunes Match tracks in the cloud is inaccessible and cloud tracks will be ignored), which, depending on file location and access speed, may take as long a second per track. Just sayin'. This lateset version fixes a problem for some OS X 10.9 users whereby the script would hang once engaged. More information and download is here.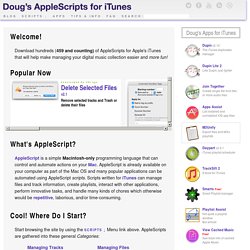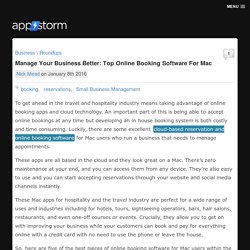 Four years ago I had the idea to build a blog network dedicated to reviewing and rounding up apps. We started with Mac apps and then quickly expanded to additional channels covering iOS, Android, Windows and Web apps. While the network has been successful in traffic and audience, reaching some 100m+ visitors over the four years, it's ultimately not fit within our broader company mission. So I'm here today to announce that unfortunately after four years of app guidance, we're closing AppStorm down. As many readers will know, AppStorm is a product of Envato. Our company is dedicated to helping people earn and learn online, and our main products are the Envato Marketplaces, Microlancer and Tuts+.