Applications
Win Emulators. Essential Software for Mac Switchers: 23 Must-Have Apps. If you recently made the switch to Mac from a Windows computer, you might be a little "lost" regarding what software is supposed to replace your old setup, or what apps are particularly worthwhile to own on the Mac platform.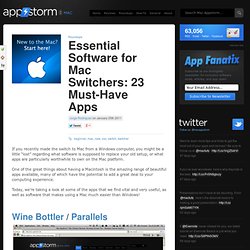 One of the great things about having a Macintosh is the amazing range of beautiful apps available, many of which have the potential to add a great deal to your computing experience. Today, we're taking a look at some of the apps that we find vital and very useful, as well as software that makes using a Mac much easier than Windows! Wine Bottler / Parallels Once you make the switch from Windows, you might miss some software that you used to have there.
- dougscripts.com. March 28 2014 - 9:57 am Had to round up some files located on disparate drives, but iTunes tracks can't be sorted using any file path information.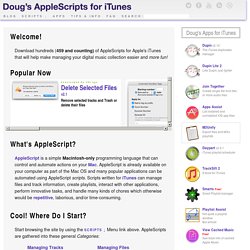 Playlists By Volume will sort the tracks of your iTunes library into discrete playlists based on the volume name of each track's file's location. Takes about a minute per thousand tracks to complete. More information and download is here. March 16 2014 - 12:18 pm. Mac.AppStorm | Mac Software Reviews, Roundups & How-Tos. Google Reader.
---