make up
Get flash to fully experience Pearltrees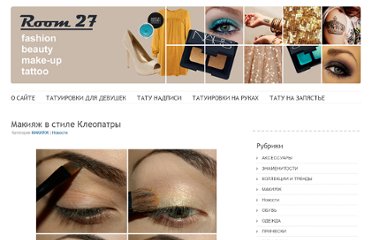 Для того, что бы сделать египетский макияж в стиле Клеопатры: 1) При помощи коричневых теней или подводки придайте бровям слегка угловатую форму. 2) Светлыми тенями с золотистым оттенком покройте всё подвижное веко. 3) Хорошо заточенным карандашом или плоской кистью с темной краской нанесите стрелку над подвижным веком. 4) Темными тенями растушуйте стрелку вверх, сделайте плавный переход к бровям.
Tightlining still confuses people. I still see "What did you mean by tightline??" comments on Youtube and blogs.
This weekend, I decided to go with something elegant but intense at the same time, and ended up with this look featuring Fyrinnae eyeshadows: Product List MAC Bare Canvas, Fyrinnae Cherry Frosting, Fyrinnae Atomic Afterglow, Zoeva 88 Mattes palette, Girls Aloud lashes, CG Lash Blast, catrice liquid liner, Maybelline Expression kohl in white I also wanted to share images of the cupcakes I made for my sister's and my birthday party last saturday (vanilla cakes with mango-passion fruit frosting):
I could not count the amount of money I have wasted by throwing away makeup that I thought was trash, when I could have fixed it. There is no need to throw your money away on perfectly good makeup! If you happen to break you powder makeup, you can easily fix it with alcohol (rubbing alcohol) and patience! This works for any kind of powder based makeup , such as bronzers , blot powders , eyeshadows , whatever! As you can see I broke my favorite bronzer - MAC "Refined Golden", and instead of buying a new one, which is out in the "Style Warriors" collection, I decided to fix mine and save my money.
We all know with craft blogs that original ideas are often hard to come by, we find ideas we love and make them our own but we didn't come up with the idea ourselves. I feel like I've finally done something original here and I'm excited about it. I'll show you the finished product and then explain. Behold my Make-up Magnet Board . I have a friend who is beautiful and stylish and has always loved make-up but recently took a course that intensified her love. Her renewed interest has worn off on me and it made me remember eye shadows I'd hidden away that were gathering dust.