Compartir Arquitectura
LA GALERIA DE MAGDALENA Y LA PERIFERIA DOMESTICA | PROGRAMA | eme3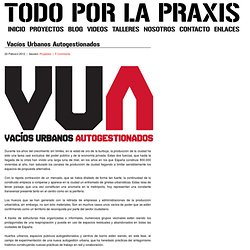 Durante los años del crecimiento sin límites, en la edad de oro de la burbuja, la producción de la ciudad ha sido una tarea casi exclusiva del poder público y de la economía privada. Estas dos fuerzas, que hasta la llegada de la crisis han vivido una larga luna de miel, en los años en los que España construía 800.000 viviendas al año, han saturado los canales de producción de ciudad llegando a limitar sensiblemente los espacios de propuesta alternativa. Con la rápida contracción de un mercado, que se había dilatado de forma tan fuerte, la continuidad de lo construido empieza a romperse y aparece en la ciudad un entramado de grietas urbanísticas. Estas islas de tercer paisaje, que una vez constituían una anomalía en la metrópolis, hoy representan una constante transversal presente tanto en el centro como en la periferia. Los huecos que se han generado con la retirada de empresas y administraciones de la producción urbanística, sin embargo, no son sólo materiales.
Vacíos Urbanos Autogestionados :: TODO POR LA PRAXIS
HighLine Project on Vimeo
Bayview Branch Library \ THA Architecture & Karin Payson A+D
Bayview Branch Library, courtesy THA Architecture & Karin Payson A+D Designed by THA Architecture in collaboration with Karin Payson A+D , this new library replaces an outdated facility, completed in 1969, with an enhanced neighborhood branch that celebrates the community's unique history and culture. The 9,000-square-foot library is part of San Francisco's voter-approved Branch Library Improvement Program, and is one of only eight new facilities from among the program's 24 projects. When completed in 2012, the library is expected to achieve LEED Gold certification .
Bisazza tiles pattern - Architecture Intérieure Commerciale Retail Design - Paris
desmond.yfrog.com/Himg610/scaled.php%3Ftn%3D0%26server%3D610%26filename%3Dksj.png%26xsize%3D640%26ysize%3D640
DISEÑO 101: PATRONES DE COMPORTAMIENTO|2009
© Nico Saieh La semana pasada se inauguró el Museo de la Memoria, obra bicentenario. Este proyecto fue resultado de un concurso abierto, donde Plataforma apoyó la difusión de este concurso a nivel internacional, llegando propuestas de varios países.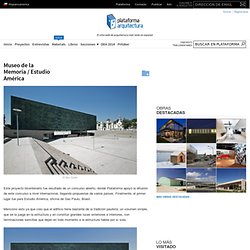 Museo de la Memoria / Estudio América
MUSEO DE LA MEMORIA. Estudio América. Brasil. | propuestas in_consultas
Localización: Avenida Matucana, Quinta Normal, Santiago, Chile Autores: ESTUDIO AMERICA Carlos Dias, Lucas Fehr y Mario Figueroa [Brasil] + Roberto Ibieta [responsable técnico y arquitecto asociado en Chile] Colaboradores CONCURSO: Amanda Renz, Carlos Eduardo Garcia, Flávia Tenan, Juliana Baldocchi, Juliana Klein, Marcus Vinícius Damon y Marina Canhadas + Ing. Ricardo Dias [estructura] y Josei Nagayassu Colaboradores EJECUTIVO: Brasil: Amanda Renz, Carlos Eduardo Garcia, Juliana Klein, Marcus Vinícius Damon y Marina Canhadas + Luiz Del Guerra y Gustavo Capecchi Superficie construida Concurso > 49.150 m² [Museo + Centro Matucana + Estacionamiento] Ejecutivo > 10.900 m² [Museo + Nuevo Estacionamiento]