Articles
Crowdsourcing Evolution. Douze blog - 7 étapes pour rédiger un briefing efficace. A Final Vote on the Crowdfunding Bill. UPDATE: The House voted 380-41 to concur on H.R. 3606 with the Senate amendment, sending it to the President's desk.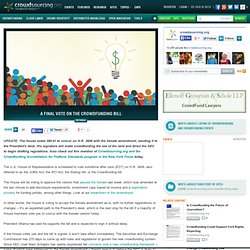 His signature will make crowdfunding the law of the land and direct the SEC to begin drafting regulations. Also check out this mention of Crowdsourcing.org and the Crowdfunding Accreditation for Platform Standards program in the New York Times today. Innovation! Get Good Ideas. Change Your Future. Innovation Keynote Speaker. Senate Passes JOBS Act, Approves Bipartisan Amendment Safeguarding Investors.
The Senate this afternoon passed H.R. 3606 — colloquially referred to as "the JOBS Act" or "the crowdfunding bill" — on a 73-26 vote.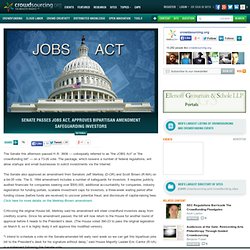 The package, which loosens a number of federal regulations, will allow startups and small businesses to solicit investments via the Internet. The Senate also approved an amendment from Senators Jeff Merkley (D-OR) and Scott Brown (R-MA) on a 64-35 vote. The S. 1884 amendment includes a number of safeguards for investors: it requires publicly audited financials for companies seeking over $500,000, additional accountability for companies, industry registration for funding portals, scalable investment caps for investors, a three-week waiting period after funding closes (before funds are received) to uncover potential fraud, and disclosure of capital-raising fees.
Click here for more details on the Merkley-Brown amendment. Crowdsourced Funding: Interview with Robert Wolfe of Crowdrise. Looking for Bold Ideas to Fix the City, New York Turns to Crowd Sourcing. If anybody needs a feel-good moment in this winter of our discontent, it's Michael Bloomberg.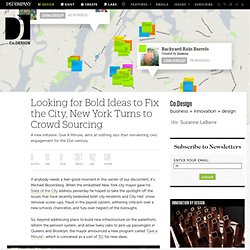 When the embattled New York city mayor gave his State of the City address yesterday he hoped to take the spotlight off the issues that have recently bedeviled both city residents and City Hall: snow removal screw-ups, fraud in the payroll system, withering criticism over a new schools chancellor, and fury over neglect of the boroughs. So, beyond addressing plans to build new infrastructure on the waterfront, reform the pension system, and allow livery cabs to pick up passengers in Queens and Brooklyn, the mayor announced a new program called "Give a Minute", which is conceived as a sort of 311 for new ideas. Douze blog - Les huit sites de crowdsourcing à surveiller en 2011. Crowdsourcing definition, crowd wisdom, collective intelligence and how it works - Chaordix.
Howe later refined his definition on his blog, while he was researching his seminal 2008 book, Crowdsourcing, with the following: The White Paper Version: "Crowdsourcing is the act of taking a job traditionally performed by a designated agent (usually an employee) and outsourcing it to an undefined, generally large group of people in the form of an open call."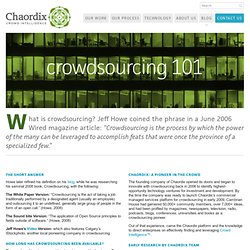 (Howe, 2008) The Sound bite Version: "The application of Open Source principles to fields outside of software." The Next Generation Career: Crowdsourcing Consultant. Millions of online workers are waiting each day for the thousands of companies that request their special services.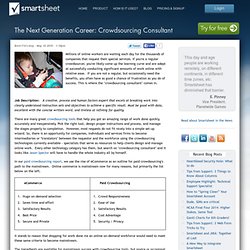 If you're a regular crowdsourcer, you've likely come up the learning curve and are adept at successfully conducting significant amounts of work online with relative ease. If you are not a regular, but occasionally need the benefits, you often have as good a chance of frustration as you do of success. This is where the 'crowdsourcing consultant' comes in. Job Description: A creative, process and human factors expert that excels at breaking work into clearly understood instruction sets and objectives to achieve a specific result. Must be good with data, excellent with the concise written word, and tireless at refining for quality. Which Crowdfunding Bill Will It Be. The Agenda How small-business issues are shaping politics and policy.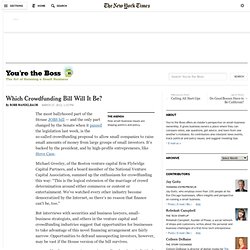 The most ballyhooed part of the House JOBS bill — and the only part changed by the Senate when it passed the legislation last week, is the so-called crowdfunding proposal to allow small companies to raise small amounts of money from large groups of small investors. It's backed by the president, and by high-profile entrepreneurs, like Steve Case. Michael Greeley, of the Boston venture capital firm Flybridge Capital Partners, and a board member of the National Venture Capital Association, summed up the enthusiasm for crowdfunding this way: "This is the logical extension of the marriage of crowd determination around either commerce or content or entertainment. La science se met au crowdsourcing. Face à l'immensité des données scientifiques, les scientifiques s'inspirent d'une technique de marketing et de financement de projets: le crowdsourcing où les masses deviennent des micro-producteurs pour un album ou micro-financeurs pour l'achat d'un objet d'art au Louvre.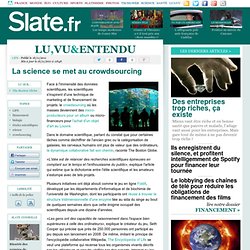 Dans le domaine scientifique, partant du constat que pour certaines tâches comme déchiffrer de l'ancien grec ou la catégorisation de galaxies, les cerveaux humains ont plus de valeur que des ordinateurs, la dynamique collaborative fait son chemin, raconte The Boston Globe. «L'idée est de relancer des recherches scientifiques épineuses en comptant sur le temps et l'enthousiasme du public», explique l'article qui estime que la dichotomie entre l'élite scientifique et les amateurs s'estompe avec de tels projets. Innovation, marketing… : l'essor des plates-formes de crowdsourcing. En décembre 2010, a vu le jour à San Francisco Festo Engineering Network, une plate-forme d'échange destinée aux professionnels de l'énergie photovoltaïque mondiale.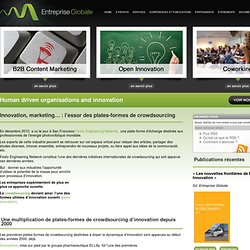 Les experts de cette industrie peuvent se retrouver sur cet espace virtuel pour relayer des articles, partager des études diverses, innover ensemble, entreprendre de nouveaux projets, ou faire appel aux idées de la communauté, etc. Festo Engineering Network constitue l'une des dernières initiatives internationales de crowdsourcing qui soit apparue ces dernières années. But : donner aux industries l'opportunité d'utiliser le potentiel de la masse pour enrichir son processus d'innovation. Les entreprises expérimentent de plus en plus ce approche ouverte. Le crowdsourcing devient ainsi l'une des formes ultimes d'innovation ouverte (open innovation). Is Crowdsourcing Innovation's Future? Widgets bring us targeted information, on-demand services and other goodies without our ever having to find or load a webpage.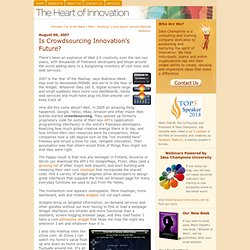 Widget interfaces are smaller and more functional than a standard, screen-hogging browser page, and they load faster. I have a cool astronomy widget that helps me map the night sky wherever I am and whatever hour it is. I also like mashup sites like zillow.com.
---