Articles
Crowdsourcing Evolution
A Final Vote on the Crowdfunding Bill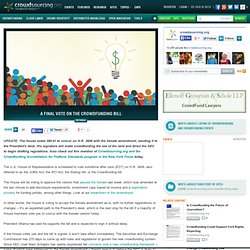 UPDATE: The House voted 380-41 to concur on H.R. 3606 with the Senate amendment, sending it to the President's desk. His signature will make crowdfunding the law of the land and direct the SEC to begin drafting regulations. Also check out this mention of Crowdsourcing.org and the Crowdfunding Accreditation for Platform Standards program in the New York Times today.
Innovation! Get Good Ideas. Change Your Future. Innovation Keynote Speaker
The Senate this afternoon passed H.R. 3606 — colloquially referred to as "the JOBS Act" or "the crowdfunding bill" — on a 73-26 vote.
Senate Passes JOBS Act, Approves Bipartisan Amendment Safeguarding Investors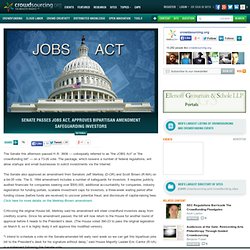 Crowdsourced Funding: Interview with Robert Wolfe of Crowdrise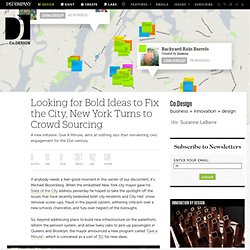 If anybody needs a feel-good moment in this winter of our discontent, it's Michael Bloomberg.
Looking for Bold Ideas to Fix the City, New York Turns to Crowd Sourcing
Howe later refined his definition on his blog, while he was researching his seminal 2008 book, Crowdsourcing, with the following: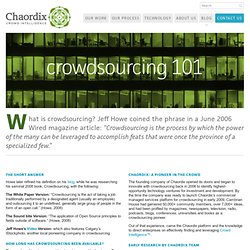 Crowdsourcing definition, crowd wisdom, collective intelligence and how it works - Chaordix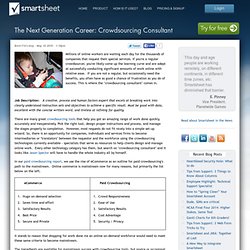 Millions of online workers are waiting each day for the thousands of companies that request their special services. If you're a regular crowdsourcer, you've likely come up the learning curve and are adept at successfully conducting significant amounts of work online with relative ease.
The Next Generation Career: Crowdsourcing Consultant | Smartsheet
Which Crowdfunding Bill Will It Be
La science se met au crowdsourcing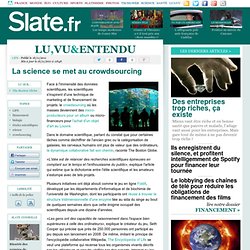 Face à l'immensité des données scientifiques, les scientifiques s'inspirent d'une technique de marketing et de financement de projets: le crowdsourcing où les masses deviennent des micro-producteurs pour un album ou micro-financeurs pour l'achat d'un objet d'art au Louvre. Dans le domaine scientifique, partant du constat que pour certaines tâches comme déchiffrer de l'ancien grec ou la catégorisation de galaxies, les cerveaux humains ont plus de valeur que des ordinateurs, la dynamique collaborative fait son chemin, raconte The Boston Globe.
En décembre 2010, a vu le jour à San Francisco Festo Engineering Network, une plate-forme d'échange destinée aux professionnels de l'énergie photovoltaïque mondiale. Les experts de cette industrie peuvent se retrouver sur cet espace virtuel pour relayer des articles, partager des études diverses, innover ensemble, entreprendre de nouveaux projets, ou faire appel aux idées de la communauté, etc.
Innovation, marketing… : l'essor des plates-formes de crowdsourcing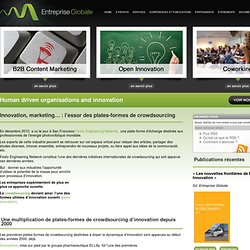 Widgets bring us targeted information, on-demand services and other goodies without our ever having to find or load a webpage.
Is Crowdsourcing Innovation's Future?