TUTORIALS
SemanticWorks 2012. Cmap.ihmc.us/coe/test/COEStartup.htm. 1.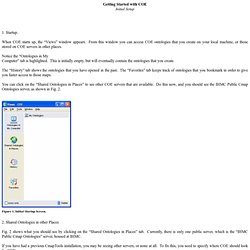 Startup. When COE starts up, the "Views" window appears. CmapTools - Support Videos. Introduction to the Views window.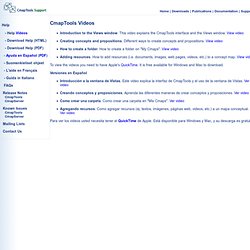 This video explains the CmapTools interface and the Views window. View video Creating concepts and propositions. Www.ihmc.us/sandbox/groups/coe/wiki/dd9f0/attachments/5ab92/BriefStartupInstructions.pdf?sessionID=a0c9a5178278d9544aa4faf9571f16fe93cca693. Intro to structOntology. Protege OWL tutorial at Manchester (School of Computer Science – The University of Manchester) PROTEGE.
OWL @ Manchester > tutorials > Protégé OWL Tutorial A step-by-step guide to modelling in OWL using the popular Protégé OWL tools.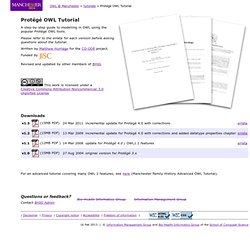 Please refer to the errata for each version before asking questions about the tutorial. Written by Matthew Horridge for the CO-ODE project. Funded by. COEmanual06 CMAP TOOLS. Getting Started with COE CMAP TOOLS. Overview CMAP TOOLS.
---