termocouple
Get flash to fully experience Pearltrees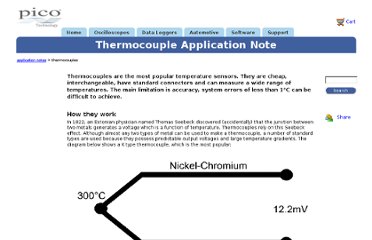 Thermocouples are the most popular temperature sensors. They are cheap, interchangeable, have standard connectors and can measure a wide range of temperatures.
Build a Thermocouple Amplifier
Thermocouple Sensitivity Type K --- Chromel ( Nickel-Chromium Alloy ) / Alumel ( Nickel-Aluminium Alloy ) This is the most commomly used "general purpose" thermocouples. They are available in the ~ -200 °C to +1200 °C range.