Electronic
Wise Warthog - Analog electronics learning resources for students and hobbyists. ST Microelectronics datasheet pdf catalog. DIY, audio, electronics... Overview: This is simple MAX038 generator.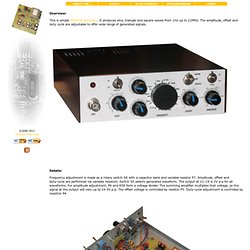 It produces sine, triangle and square waves from 1Hz up to 22MHz. The amplitude, offset and duty cycle are adjustable to offer wide range of generated signals. Details: AVR. Учебный курс. Делаем АЦП из Аналогового компаратора : Электроника для всех. Так сложилось, что основной МК с которым я работаю постоянно и на котором делаю подавляющее большинство задач это ATTiny2313 — он популярен, а, главное, это самый дешевый контроллер из всей линейки AVR с числом ног более 8.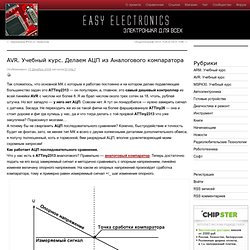 Я их брал числом около трех сотен за 18, чтоль, рублей штучка. Но вот западло — у него нет АЦП. Совсем нет. А тут он понадобился — нужно замерить сигнал с датчика. Napájecí stabilizovaný regulovatelný zdroj s obvodem L200 | HW.cz. Napětí lze nastavit hodnotami dvou externích rezistorů v rozmezí od 2,75V do 36,0V, ovšem za předpokladu že vstupní napájecí napětí bude nejméně o 2,5 V vyšší.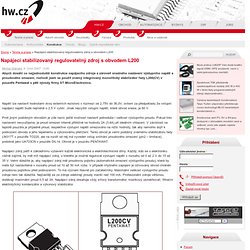 Jinak nejvyšší vstupní napětí, které obvod snese, je 60 V. Proti jiným podobným obvodům je zde navíc ještě možnost nastavit jednoduše i velikost výstupního proudu. Pokud toto nastavení nevyužijeme, je proud omezen interně přibližně na hodnotu 2A (3,6A) při ideálním chlazení. V závislosti na teplotě pouzdra je případně proud, respektive výstupní napětí omezováno na nižší hodnoty, tak aby nemohlo dojít k poškození obvodu a jeho tepelnému a výkonovému přetížení. L200 Power Supply. Circuit : Andy CollinsonEmail : Description Power supply with variable voltage and fixed current regulation made using the ubiquitous L200C regulator.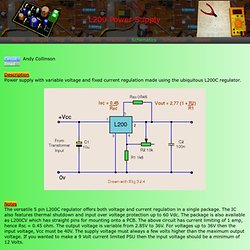 Notes The versatile 5 pin L200C regulator offers both voltage and current regulation in a single package.
Datasheet
Blog. Course. Components. Circuit. Analog. Digital.
---