Sculpture
Welcome to the Treesculpture Website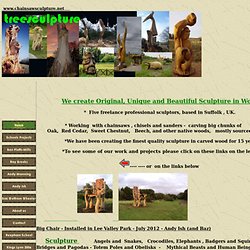 * Working with chainsaws , chisels and sanders - carving big chunks of English Oak, Red Cedar, Sweet Chestnut, Beech, and other native woods, mostly sourced locally. *We have been creating the finest quality sculpture in carved wood for 15 years *To see some of our work and projects please click on these links on the left ---- ---- or on the links below Big Chair - Installed in Lee Valley Park - July 2012 - Andy Ish (and Baz) Sculpture Angels and Snakes, Crocodiles, Elephants , Badgers and Squirrels , Bridges and Pagodas - Totem Poles and Obelisks - Mythical Beasts and Human Beings - Abstract Forms and Twisted Shapes - or tell us what you want - we CAN carve it for you , personalised and special with excellence.
Nelsons Column
One of Landseer's lions, at the base of Nelson's Column, Trafalgar Square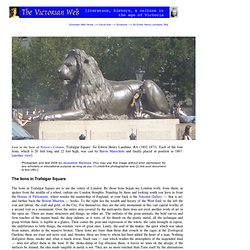 Lion at the base of Nelson's Column, Trafalgar Square. Sir Edwin Henry Landseer, RA (1802-1873). Each of the four lions, which is 20 feet long and 22 feet high, was cast by Baron Marochetti and finally placed in position in 1867.
Sandinyoureye can help you realise images that only existed in your imagination with magical sand sculptures and ice sculptures , and with gigantic sand drawings. Use our unique ephemeral art forms for creative communication in promotion and branding, or for the simple pursuit of entertainment and art . Have a shovel full of fun yourself by taking a tool in hand with our sand sculpture workshops , sand drawing workshops and team building activities ; we shouldn't be the only ones who get to have all the fun! Enjoy browsing. Jamie Wardley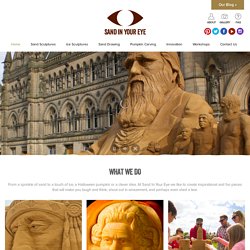 Sand Sculptures and Ice Sculptures
Amazing Sand Art on Ukraine's Got talent - Kseniya Simonova
essays & effluvia: 2010 Oregon Sand castle competition