Quotes n poems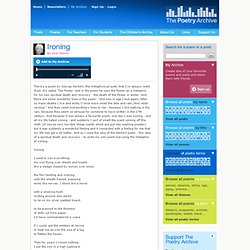 Ironing by Vicki Feaver
Vicki Feaver (b. 1943) grew up in Nottingham "in a house of quarrelling women", an emotional inheritance which finds later expression in her poetry. She studied Music at Durham University and English University College, London and worked as a lecturer in English and Creative Writing at University College, Chichester, becoming Emeritus Professor. Her collections have been highly praised, the second, The Handless Maiden, including both the Arvon International Poetry Competition finalist 'Lily Pond', and 'Judith', winner of the Forward Poetry Prize for Best Single Poem.
I thought you would notice that ;-) by mirlen101 Feb 23
You Quoted – Motivational, Inspirational, Famous Quotes
A Chicot by Muriel Stuart
IN days of ancient history Who were you?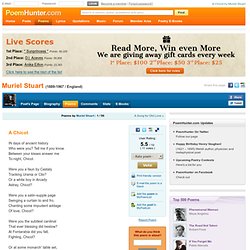 'Resume' - Dorothy Parker
Maybe I'm not so alright I just wrote "Lukily" instead of " Luckily" and "would" instead of "wouldn't " I must be losing it ;-O by mirlen101 Feb 23
Lukily she wasn't on any of the modern meds . She might have leveled out and we would have her great sarcastic insightful notes ;-) I'm fine how about yourself ? ;-) by mirlen101 Feb 23
Huh I didn't know that, I thought she was just self medicating ;-/ by mirlen101 Feb 23
first of thanks to dorothy...for creating this..and again than@ cybermyth...dear please keep sending such links ..i love those stuff..thnks.. by nikksnation Feb 22
Spike Milligan - A Silly Poem
Quotes : Dictionary of Quotes
Quote Snack
1,000,000 Famous Quotes and Quotations | QuotesDaddy
Welcome to Quotations Book - The Home of Famous Quotes
The Quotations Page - Your Source for Famous Quotes
Famous Quotes at BrainyQuote
UK Quotations - Source of Famous Quotes
Make me a picture of the sun - Poem by Emily Dickinson