Computers and internet
Article When I founded my first startup in 2008, I was a programming newbie. A degree in economics from Oberlin College hadn't prepared me for a career... Posted 17 Jan 2014 Open source news for your reading pleasure. January 13-17, 2014 In this week's edition of our open source news roundup, you'll learn about some new...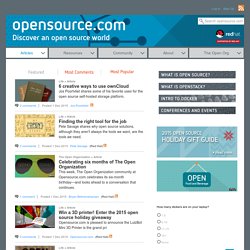 The success of many VARs in the open source ecosystem is based on their ability to repackage open source software into a user-friendly platform... look no further than ProcessMaker, the workflow package from Colosa that debuted a much-enhanced version. ProcessMaker has helped us improve the efficiency of our employees. Instead of running around to get approvals, we now have a software based process management. " Pinkesh Jain, Finance Manager, Lakozy Toyota success story More Testimonials ProcessMaker is a very flexible, easy-to-use solution. Lenovo would recommend it to anyone who is looking for workflow improvements or even just to simplify their processes" Denes Trestyanszki, Call center operations leader, Lenovo success story More Testimonials With ProcessMaker in place, we can manage our commercial processes and ensure our business runs smoothly, from the creation of a proposal to the shipment of our products."