Web project
Client Questionnaire | Working With Me | Adam Cowley - Freelance Web Developer - Swindon, Wiltshire. A Client Questionnaire, Who What Where and Why | Couchable.co. Every freelancer or business owner needs a client questionnaire, also known as a project planner.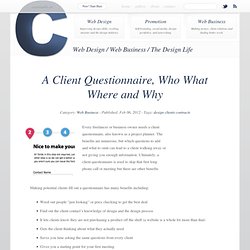 The benefits are numerous, but which questions to add and what to omit can lead to a client walking away or not giving you enough information. Ultimately, a client questionnaire is used to skip that first long phone call or meeting but there are other benefits Making potential clients fill out a questionnaire has many benefits including: Weed out people "just looking" or price checking to get the best dealFind out the client contact's knowledge of design and the design processIt lets clients know they are not purchasing a product off the shelf (a website is a whole lot more than that)Gets the client thinking about what they actually needSaves you time asking the same questions from every clientGives you a starting point for your first meeting.
38 Remarkably Designed Donation Pages Which Will Soften Your Heart. For the majority of non-profit organizations, online fund-raising has become one of the most important sources of income, especially the last 10 years.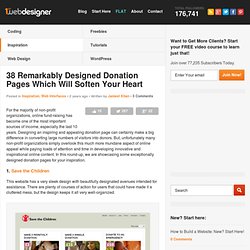 Designing an inspiring and appealing donation page can certainly make a big difference in converting large numbers of visitors into donors. But, unfortunately many non-profit organizations simply overlook this much more mundane aspect of online appeal while paying loads of attention and time in developing innovative and inspirational online content. In this round-up, we are showcasing some exceptionally designed donation pages for your inspiration. 1.
40 Effectively Designed Non-Profit and Charity Web Sites. A charity or cause may not need the sleek sales pages of a business on the web, but a poorly designed one could still mean the difference between helping people or failing to do so.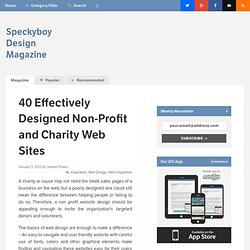 Therefore, a non profit website design should be appealing enough to invite the organization's targeted donors and volunteers. The basics of web design are enough to make a difference – An easy to navigate and user friendly website with careful use of fonts, colors and other graphical elements make finding and navigating these websites easy for their users to understand and learn about their cause.
Javascript/jQuery. How To Design a Non-Profit Website That Engages Donors and Volunteers. It's one thing to design a beautiful non-profit website.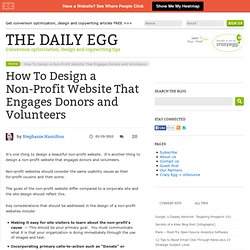 It's another thing to design a non-profit website that engages donors and volunteers. Non-profit websites should consider the same usability issues as their for-profit cousins and then some. The goals of the non-profit website differ compared to a corporate site and the site design should reflect this. Key considerations that should be addressed in the design of a non-profit websites include: 25 Glorious Charity and Non-Profit Web Designs. Some say money can't buy you happiness, but there is a loophole.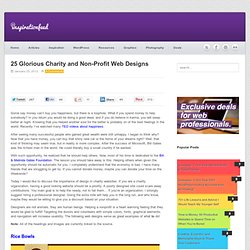 What if you spend money to help somebody? In you return you would be doing a good deed, and if you do believe in karma, you will sleep better at night. Knowing that you helped another soul for the better is probably on of the best feelings in the world. 5 Timeless Usability Principles for Website Designers. There are some usability principles which change very rarely.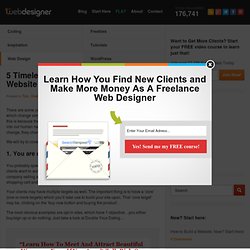 The reason for this is because they are deeply ingrained into our human nature. Even if they change, they change very slightly, the fundamentals remain the same. We will try to cover some most important usability principles in the following article. 1. How To Actually Use Negative Space As Design Element. Negative space is an important element in making website layouts and logos although it is very tricky to combine negative space in designing but once you are able to do it, it is not something to be overlooked or avoided.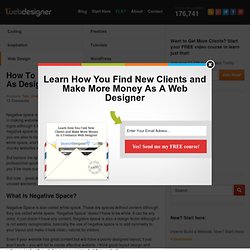 I usually call it white space, and to be honest many new designers usually make a mistake of creating chunky websites with too much information in it and without any spacing. But believe me spacing does wonders, for even young designers – you can look professional quickly with minimal website..just put less content use negative space and you'll be more successful than others starting just out. Non Profit Website Design: Examples and Best Practices - Smashing Magazine.
Advertisement Non profit websites share many of the same best practices as any website.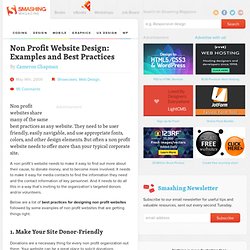 They need to be user friendly, easily navigable, and use appropriate fonts, colors, and other design elements. But often a non profit website needs to offer more than your typical corporate site. A non profit's website needs to make it easy to find out more about their cause, to donate money, and to become more involved. 25 Non-profit and Social-Driven Websites. Pro Bono Designs for Non-Profits and Charities, Part 2 | Onextrapixel - Web Design & Development Magazine.
In Part 1 of this series, we looked at some reasons why you might choose to do pro bono Web designs for non-profit or charitable organizations.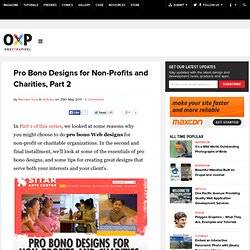 In the second and final installment, we'll look at some of the essentials of pro bono designs, and some tips for creating great designs that serve both your interests and your client's. Essentials of a Pro Bono Design Process Use a Contract Seriously. In fact, use the contract you give paying clients. Hull Digital Live 10 · Hulls very own digital and technology conference.
---