Education
How Michelle Rhee Is Taking Over the Democratic Party - Molly Ball. In a major shift, education reformers are now influential at the highest levels of the party once dominated by the teachers unions.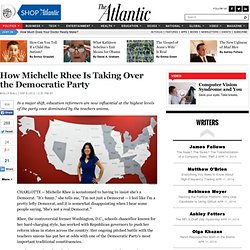 Reuters CHARLOTTE -- Michelle Rhee is accustomed to having to insist she's a Democrat. "It's funny," she tells me, "I'm not just a Democrat -- I feel like I'm a pretty lefty Democrat, and it is somewhat disappointing when I hear some people saying, 'She's not a real Democrat.' " Rhee, the controversial former Washington, D.C., schools chancellor known for her hard-charging style, has worked with Republican governors to push her reform ideas in states across the country. Www.p12.nysed.gov/irs/statistics/public/2012/TABLE6.pdf. IRS:Education Statistics for New York State. Education Statistics for New York State January 2012 Trends in enrollment, expenditures, local assistance, Federal aid, staffing, and postsecondary student financial aid.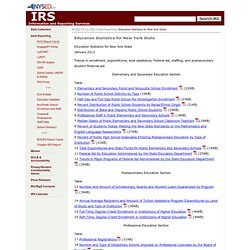 Elementary and Secondary Education Section. Mrs. Desantis' Page. Congratulations!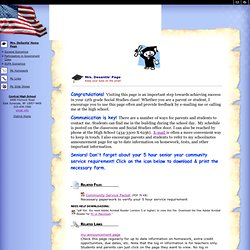 Visiting this page is an important step towards achieving success in your 12th grade Social Studies class! Whether you are a parent or student, I encourage you to use this page often and provide feedback by e-mailing me or calling me at the high school. Communication is key! There are a number of ways for parents and students to contact me. Students can find me in the building during the school day. EngageNY | Our Students. Their Moment. Chicago teachers strike heads into second day. Talks aimed at settling the Chicago teachers strike inched along Wednesday, while away from the bargaining table debate focused on how Mayor Rahm Emanuel's hand-picked school board would implement an anticipated spate of school closings took center stage.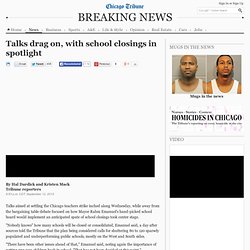 "Nobody knows" how many schools will be closed or consolidated, Emanuel said, a day after sources told the Tribune that the plan being considered calls for shuttering 80 to 120 sparsely populated and underperforming public schools, mostly on the West and South sides. "There have been other issues ahead of that," Emanuel said, noting again the importance of getting 350,000 children back in school. "That has not been decided at this point. " Common Core Learning Standards : C&I : P-12. P-12 Common Core Learning Standards Documents On January 10th, 2011, the Board of Regents approved the recommended additions to the Common Core Learning Standards for English Language Arts & Literacy and Common Core Learning Standards for Mathematics, plus a new set of Prekindergarten Standards.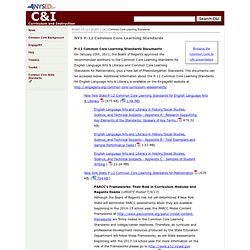 The documents can be accessed below. Www.p12.nysed.gov/irs/statistics/public/2012/TABLE1.pdf.
---