Nikd1234
Nikhil
Atmospheric volumes of greenhouse gases blamed for climate change hit a new record in 2012, the World Meteorological Organisation (WMO) said on Wednesday.
Greenhouse gas levels hit new record high - Technology & Science
Sea creature mystery around B.C. - CBC News Vancouver at 6 - CBC Player
Telecom billing complaints rise - Consumer Life - CBC Player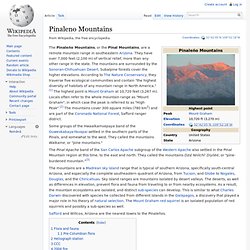 Pinaleno Mountains
The Pinaleño Mountains, or the Pinal Mountains, are a remote mountain range in southeastern Arizona. They have over 7,000 feet (2,100 m) of vertical relief, more than any other range in the state.
IMF chief warns a US default could spark recession
13 October 2013Last updated at 19:00 ET
▶ BBC World News - Fast Track, 07/09/2013 GMT, Why redheads don't feel blue
BBC World News - Fast Track, 31/08/2013 GMT, Insider Guide: Whale watching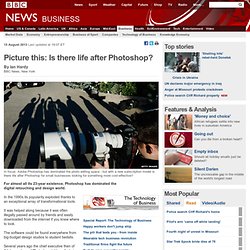 15 August 2013 Last updated at 23:07 GMT By Ian Hardy BBC News, New York In focus: Adobe Photoshop has dominated the photo editing space - but with a new subscription model is there life after Photoshop for small businesses looking for something more cost-effective?
Picture this: Is there life after Photoshop?
RecyclElectronics e-Stewards
ViperChallenge
Bluegrass Guitar Lesson: Right Hand Practice Exercises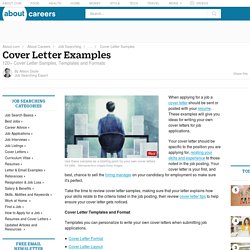 When applying for a job a cover letter should be sent or posted with your resume. If you are not sure what to write, review these cover letter samples. Your cover letter should be specific to the position you are applying for, relating your skills and experience to those noted in the job posting. Your cover letter is your first (and best) chance to make a good impression.
Writing a cover letter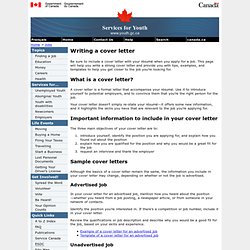 Be sure to include a cover letter with your résumé when you apply for a job. This page will help you write a strong cover letter and provide you with tips, examples, and templates to help you get closer to the job you're looking for. What is a cover letter? A cover letter is a formal letter that accompanies your résumé.
Cover Letters - How to Write a Cover Letter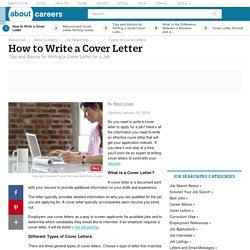 Writing a cover letter often seems like a particularly daunting task. However, if you take it one step at a time, you'll soon be an expert at writing cover letters to send with your resume . A cover letter typically accompanies each resume you send out. Your cover letter may make the difference between obtaining a job interview and having your resume ignored, so it makes good sense to devote the necessary time and effort to writing effective cover letters.
Cover letters: types and samples | Career Services | Virginia Tech
You are here: Career Services > Job & internship search guide > Correspondence index > Cover letters: types and samples On this page: hard copy / e-mail differences | all cover letters should... | page margins, fonts sample cover letter format | letters of application or inquiry | info-seeking letters and follow-up The guidelines here apply to both hard copy correspondence and e-mail. (To decide which to use, see e-mail in your job search .) Main differences between e-mail and hard copy correspondence: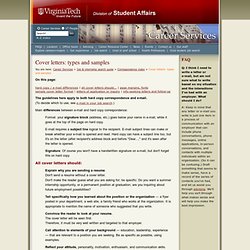 5 - 109 Interview Questions and Answers - Part 1 of 2.pdf (application/pdf Object)
Chevron's Career Center - Find a Job