Tutorials & Info
Knitty.com. Picking up stitches, picking up stitches...seems like no matter where you turn, you're being asked to pick up stitches.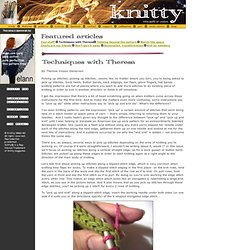 Sock heels, button bands, neck edgings, ear flaps, glove fingers, hat bands... knitting patterns are full of places where you want to add more stitches to an existing piece of knitting in order to knit in another direction or finish it off somehow. I get the impression that there's a bit of head scratching going on when knitters come across these instructions for the first time. And to make the matters even more confusing, some instructions say to "pick up sts" while other instructions say to "pick up and knit sts". Knitting Instructional Video - How To Pick Up Stitches. Knitting and Picking up stitches along an edge.
Picking up stitches along an edge Once the main body of the knitting has been completed, it is often necessary to add extra finishing rows for neck bands, button and buttonhole bands and other edgings.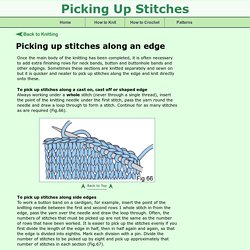 Sometimes these sections are knitted separately and sewn on but it is quicker and neater to pick up stitches along the edge and knit directly onto these. Knit Tutorial - Picking Up Stitches. When you pick up stitches, you are adding knit stitches to an existing work in order to expand the work.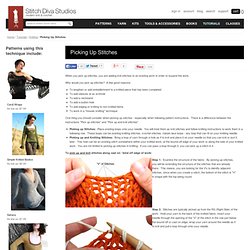 Why would you pick up stitches? A few good reasons: To lengthen or add embellishment to a knitted piece that has been completedTo add sleeves at an armholeTo add a neckbandTo add a button holeTo add edging or knitting to non-knitted itemsTo work in a "mosaic knitting" technique. Knitting needle conversion chart from Laughing Hens. How to Knit Pick Up Stitches.
---