Funny Blogs
There, I Fixed It - Redneck Repairs. Embarrassing & Awkward Moments. Funny Facebook Status Messages ( Failbooking ) PhotoshopDisasters. There, I Fixed It - Redneck Repairs. AntiDuckface. All things heinous, trashy, and hilarious in weddings! Lamebook – Funny Facebook Statuses, Fails, LOLs and More – The Original. AwkwardFamilyPhotos.com. Cake Wrecks. FAIL Blog: Epic Fail Funny Pictures and Funny Videos of Owned, Pwned and Fail Moments. Failbook. Texts From Last Night. Engrish Funny: Engrish Pictures That Is Your Funny Engrish. STFU, Parents. Ugliest Tattoos - Funny Tattoos. Sleep Talkin' Man. Fashion Police Files. BRIDAL FASHION WEEK – Part 1 I don't know about you, but I love, love, love a really good wedding !!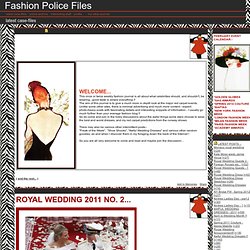 I love the gorgeous look of it, the general feelgood atmosphere, and even the inevitable little drama that happens at every wedding, but, most of all, I love the fashions – this is one of the few times you can really get all dressed up to the nines, with a hat and everything - even the men ditch their trainers and jeans for a day... They don't happen too often these days what with everyone taking the living-together option as a lifestyle choice instead of choosing to tie the knot, but every so often, you get invited to a memorably good one...
Weddings have been on my mind recently because this is the most popular time of year for the happy event, and also, I have just finished the "Together Forever" Promotion window displays at Peter Jones – Wendylady1.livejournal.com/69130.html. Oddee.com - A Blog on Oddities: the odd, bizarre and strange things of our world!
---