Python
Описание[править] Python — мощный и простой для изучения язык программирования. Он позволяет использовать эффективные высокоуровневые структуры данных и предлагает простой, но эффективный подход к объектно-ориентированному программированию. Сочетание изящного синтаксиса, динамической типизации в интерпретируемом языке делает Python идеальным языком для написания сценариев и ускоренной разработки приложений в различных сферах и на большинстве платформ.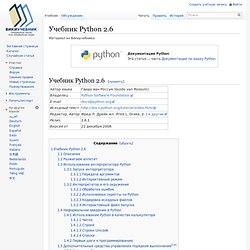 Учебник Python 2.6
Get Started Whether you're new to programming or an experienced developer, it's easy to learn and use Python. Start with our Beginner's Guide Download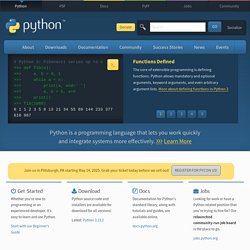 Python regex docs
This module provides regular expression matching operations similar to those found in Perl. Both patterns and strings to be searched can be Unicode strings as well as 8-bit strings. Regular expressions use the backslash character ('\') to indicate special forms or to allow special characters to be used without invoking their special meaning. This collides with Python's usage of the same character for the same purpose in string literals; for example, to match a literal backslash, one might have to write '\\\\' as the pattern string, because the regular expression must be \\, and each backslash must be expressed as \\ inside a regular Python string literal. The solution is to use Python's raw string notation for regular expression patterns; backslashes are not handled in any special way in a string literal prefixed with 'r'. So r"\n" is a two-character string containing '\' and 'n', while "\n" is a one-character string containing a newline.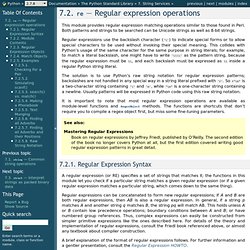 Django is a high-level Python Web framework that encourages rapid development and clean, pragmatic design. Developed by a fast-moving online-news operation, Django was designed to handle two challenges: the intensive deadlines of a newsroom and the stringent requirements of the experienced Web developers who wrote it. It lets you build high-performing, elegant Web applications quickly. Django focuses on automating as much as possible and adhering to the DRY principle. Dive in by reading the overview →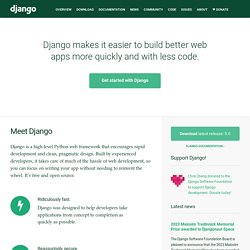 Стиль кода в Python: Part 1 « Istergul's blog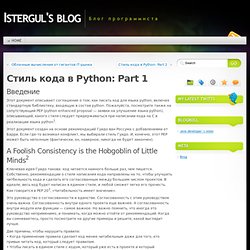 Введение Этот документ описывает соглашение о том, как писать код для языка python, включая стандартную библиотеку, входящую в состав python. Пожалуйста, посмотрите также на сопутствующий PEP (python enhanced proposal — заявки на улучшение языка python), описывающий, какого стиля следует придерживаться при написании кода на C в реализации языка python1. Этот документ создан на основе рекомендаций Гуидо ван Россума с добавлениями от Барри.