Foto
'Compact Super Zoom' Camera Group Test (Q2 2009) Review: 1. Introduction
When Panasonic launched the 'Travel Zoom' TZ1 back in February 2006 the Japanese electronics giant established a profitable new niche within the digital camera market: the compact superzoom. For a short while the company's TZ series was the only digital camera line that combined a long (10x) zoom with compact and pocketable dimensions, and unsurprisingly the TZ series became rather popular with consumers. More recently though, probably inspired by Panasonic's success, most of the large manufacturers have launched their own contenders in the compact superzoom bracket, many of which show that their designers must have been looking quite closely at Panasonic's products before sitting down to develop their own models. It's easy to see why these so-called compact superzooms appeal to the masses.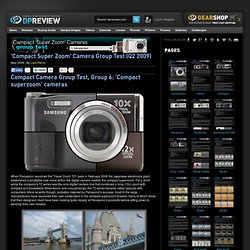 Fotografieren lernen - Der Fotolehrgang im Internet - Fotokurs / Fotoworkshop
Photoshop Tipps & Tricks
Das professionellste und gleichzeitig auch komplexeste Programm zur Elektronischen Bildverarbeitung ist zweifellos Adobe Photoshop CS/CS2. Und gerade aus der Komplexität resultieren oftmals auch die Schwierigkeiten im Umgang mit Photoshop. Erfahrungen spielen eine entscheidende Rolle. Einige davon, die wir bei unendlich vielen Bildbearbeitungen gesammelt haben, möchten wir gerne an Sie weitergeben.