Nails
12 Amazing DIY Nail Art Designs Using Scotch Tape. Beauty By TotallyLoveIt | If you've ever wondered how girls get perfectly geometric nail art, the execution probably involved something as simple as cut-up Scotch tape.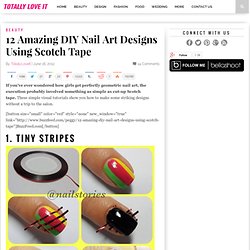 These simple visual tutorials show you how to make some striking designs without a trip to the salon. [button size="small" color="red" style="none" new_window="true" link=" Create your own unique nail art. Here's a great idea for decorating your nails without having to go near any of those scary-looking nail parlours that stink to high heaven even from outside...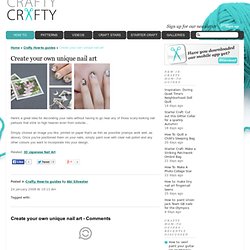 Simply choose an image you like, printed on paper that's as thin as possible (stamps work well, as above). Once you've positioned them on your nails, simply paint over with clear nail polish and any other colours you want to incorporate into your design. Related: 3D Japanese Nail Art. Nails and Noms » 31 Day Challenge » Nails and Noms. Mani Monday: Boo-tiful Nails. Jeepers creepers!
Halloween is only one week away! Get your Halloween glam on by polishing your nails in frightfully festive shades and prints. Below are a few of my favorite manicures to get you inspired... Some are spooky and a few are fun. Give one a try and upload a pic of your nails to your ElleandBlair.com profile page for a chance to have your manicure featured in a Member Spotlight post!
14 Examples of Creative Nail Art. Stylish fingernails and the most unique nail designs from all over the world.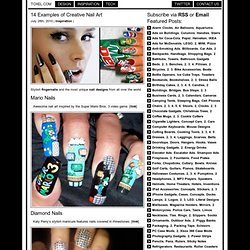 Mario Nails Awesome nail art inspired by the Super Mario Bros. 3 video game. [link] Diamond Nails Katy Perry's stylish manicure features nails covered in rhinestones. FINGER NAILS & TOE NAILS. Ombré Nail Tutorial. Ombré nails are an easy way to spice up your nails without much effort.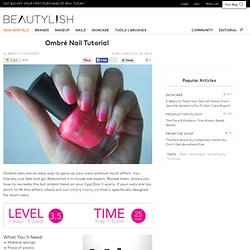 You literally just dab and go! Beautylish's in-house nail expert, Romee Ham, shows you how to recreate the hot ombré trend on your tips! DIY Glitter Nail Polish. The season almost demands that you wear chunky glitter polish at least a couple of times, but big glitter polishes tend to be on the expensive end, and polish with tiny glitter takes endless coats to get the same bold, sparkly effect.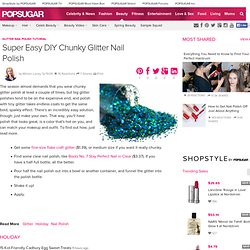 There's an incredibly easy solution, though: just make your own. That way, you'll have polish that looks great, is a color that's hot on you, and can match your makeup and outfit. To find out how, just read more. Get some fine-size flake craft glitter ($1.39), or medium size if you want it really chunky.Find some clear nail polish, like Boots No. 7 Stay Perfect Nail in Clear ($3.37). If you have a half-full bottle, all the better.Pour half the nail polish out into a bowl or another container, and funnel the glitter into the polish bottle.Shake it up! Tips On Enhancing Nail Growth - Facts About Nail Growth - Long Nails Ideas - How To Grow Nails. Read about tips on enhancing nail growth, interesting facts about nail growth, ideas for long nails and how to grow nails.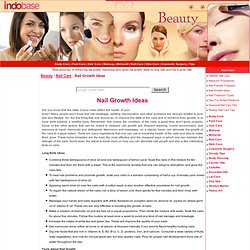 Did you know that the state of your nails reflect the health of your body? Many people don't know that nail breakage, splitting, discoloration and other problems are strongly related to poor diet and lifestyle. I'd wear that. / "Tiffany box nails!" what color nail polish is that? Neon cheetah print on white nails with ALIEN CAT WOMAN: robin moses nail art tutorial. Photo 2- Try Out These 3 Easy Nail-Art Designs. Feb 10, 2014 Nail looks inspired by a holiday can be a double-edged sword.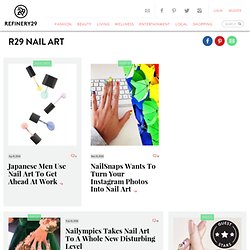 Sure, it's fun to embrace the spirit, but a lot of looks tend to veer into cheesy territory where you and your nails just look silly. But…read Dec 23, 2013 We thought we'd reached the end of Instagram's holiday nail-art universe last week when we went through essentially all of it to compile the most festive nail-spiration. Mermaid Nails. Share this image Share It Pin It For our trip to Costa Rica, I wanted fun nails that had an almost tropical vibe.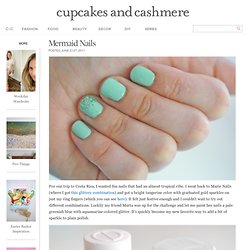 I went back to Marie Nails (where I got this glittery combination) and got a bright tangerine color with graduated gold sparkles on just my ring fingers (which you can see here). Beauty Counter blog: Insider tips on beauty products, hair, makeup, skincare, fragrances, spas, and salons » Blog Archive » Deborah Lippmann Puts The Party In A Bottle. Nails.
---