Diagrams
sites/default/files/downloads/Origami/Books/Michael LaFosse - Origami Butterflies.pdf
View topic - Sipho Mabona - Swallow (CP)
let's start posting the swallow-pictures! it'll probably take some time until all of the 50 pictures will appear in here and again for adding some explaining comments. please, if you'll get the bird ready, post a picture to the forum and do not forget the authorship - it's a model by sipho mabona. sipho taught this old version - the new one has a closed belly - at the german convention 2009 . i took the chance to join his workshop and with refolding it from time to time i managed it to remember the way to fold that swallow.i'd recommend a size not smaller than 20x20 cm. i did it with different paper qualities - copy, kraft, tant - but cannot say what's best. just try to find your own favourites ...1 fold the diagonals and - on the other side - the middle creases 2 collapse the paper to a triangle 3 fold the long edge of each flap to the middle crease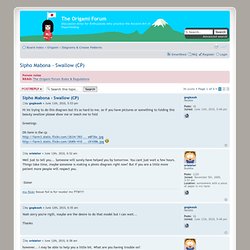 Primrose (туториал) | kusudama.info
Origami Kusudama Cherry Blossom Folding Instructions
This is an origami kusudama cherry blossom with a more elaborate star-like center.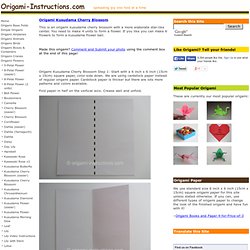 Origami kusudama butterfly is another pretty kusudama flower by Makoto Yamaguchi.
Origami Kusudama Butterfly Folding Instructions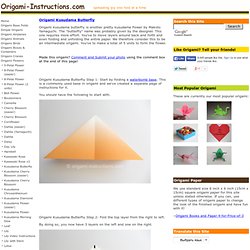 Sakuradama Diagram Photo: This Photo was ... | Origami Kusudama ba...
Dude's Daily Origami - Kusudama Versailles/Buquet Di Rose (Tutorial In Italiano)
Image | Welcome to Joybx – Inspiring images
CARLA ONISHI : Kusudama Vera Estrela | Origami Kusudama balls & Sph...
У меня большая просьба к людям, искушённым в деле кусудамотворения.Я изобрела велосипед или сделала нечто оригинальное?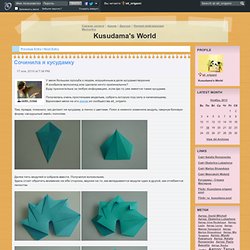 Kusudama's World - Сочинила я кусудамку
wolf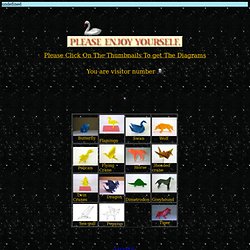 Diagrampage
A Starry Night A starry, starry night,Oh, what a wonderful sight!Little stars, big stars, twinkling in the sky,And to reach you I visualize I can fly.
web.archive.org/web/20110210131225/http://dev.origami.com/images_pdf/orchid.pdf
Animals
wolf
THE MINI NEO EDITIONS
N° 14 - February 2013 Peasant mask - Sergio Guarachi N° 13 - January 2013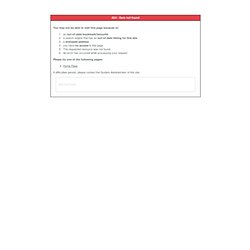 Origami and paper art by Jacob Ewing
ori500.free.fr/diagrams/local_pdf/ciervo.pdf
As I have shared earlier, Jason has improved further on his Nazgul model and brought us Nazgul 8.1! But I would hardly call this an improvement… it is actually an entirely new design!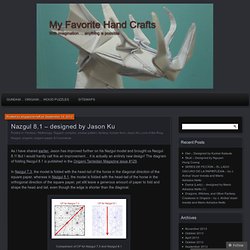 Nazgul 8.1 – designed by Jason Ku | My Favorite Hand Crafts
Internet Archive Wayback Machine
origamipleat Just another WordPress.com site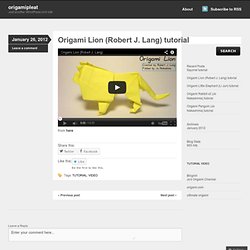 Origami Lion (Robert J. Lang) tutorial « origamipleat
พับกระดาษ : สิงโต
www.pajarita.biz/aep/nacionales/espa9-1.pdf
tgotani's Photostream
www.webfilms.ca/cat.pdf
Origami Drake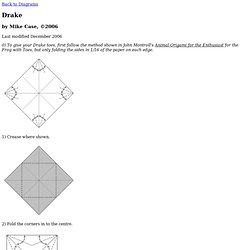 Back to Diagrams by Mike Case, ©2006 Last modified December 2006
fc06.deviantart.net/fs7/f/2005/211/3/2/FoxGoGuspath.pdf
dev.origami.com/images_pdf/hummingbird.pdf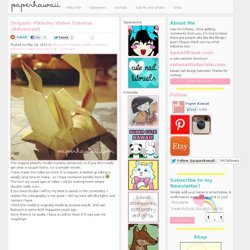 Origami Pikachu Video Tutorial (Advanced)
This origami pikachu model is pretty advanced, so if you don't really get what a squash fold is, try a simpler model. I have made this video as more of a request, it ended up taking a reeally long time to make.. so I hope someone benifits from it This isn't my usual type of video, I will be making more simple models really soon..
www.webfilms.ca/horse.pdf
HorseDiagrams
dev.origami.com/images_pdf/horse.pdf
Martin's Origami: Dragon
www.origamiaustria.at/diagrams/rearing_dragon.pdf
www.fishgoth.com/origami/diagrams/stegosaurus.pdf
Won Park Dollar Koi Tutorial
Origami Tanteidan Convention 15
THE BLACK LOTUS
www.origamiseiten.de/forcher/fuchs96.pdf
dl.dropbox.com/u/11426805/scaffold/scaf03.pdf
Chinese Zodiac Origami: diagrams for the 12 animals in the Chinese zodiac
Origami Diagrams
Mini Origami Books Tutorial