Other Desserts
Get flash to fully experience Pearltrees
Martha Stewart Living, December 2005 Yield Makes about 5 1/2 dozen Add to Shopping List Ingredients 2 cups all-purpose flour 1/2 teaspoon ground allspice 1 teaspoon salt 1 cup unsulfured molasses 1/2 cup (1 stick) unsalted butter, softened 1/4 cup bourbon 1 cup packed light-brown sugar 4 cups coarsely chopped pecans, toasted Directions Whisk together flour, allspice, and salt in a small bowl; set aside.
These aren't anything complicated. With five ingredients, they take only a few minutes to put together. In fact, these were probably the least time-intensive food at my Cheesecake Extravaganza . Yet, I had more than a few people come up and proclaim their love for the finger food. You don't have to throw a cheesecake party to serve these....I imagine they'd be welcomed just about anytime!
Thursday, October 30, 2008 Pumpkin Cream Cheese Truffles **UPDATE** I originally made these in 2008, back in my early stages of blogging. There seems to be a renewed interest in them, and since it had been 3 years since I made them, I decided to make them again and have a new photo shoot.
Save to your Collections Sorry for the inconvenience! Saving is temporarily unavailable as we work through a few kinks in our new recipe design (we hope you like it!). Don't worry, your collections are safe and you'll be able to save recipes again very soon.
Prepare an ice-water bath. Stir together milk, cream, sugar, and vanilla seeds and pod if using, in a medium saucepan. Bring to a simmer. Remove from heat, and let stand for 10 minutes.
For oat cookie crust: Preheat oven to 350°F. Line 13 x 9 x 2-inch metal baking pan with parchment paper; coat with nonstick spray. Combine 6 tablespoons butter, 4 tablespoons brown sugar, and 2 tablespoons sugar in medium bowl. Using electric mixer, beat mixture until light and fluffy, occasionally scraping down sides of bowl, about 2 minutes.
Sorry for my leave of absence, I spent the week at the beach!
It's hard to believe Easter is just around the corner. This year is going too fast for me to keep up! I swear it felt like yesterday that I was laughing at how quickly the Easter displays went up to replace the Christmas stuff at the beginning of the year, it has managed to creep up on me.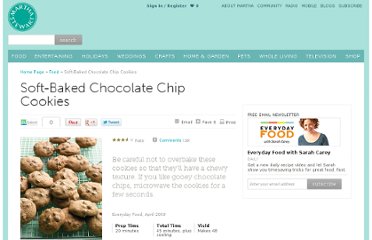 Be careful not to overbake these cookies so that they'll have a chewy texture. If you like gooey chocolate chips, microwave the cookies for a few seconds. Everyday Food, April 2009 Prep Time 20 minutes Total Time 45 minutes, plus cooling Yield Makes 48 Add to Shopping List Ingredients 2 1/2 cups all-purpose flour, (spooned and leveled) 1/2 teaspoon baking soda 1/4 teaspoon baking powder 1/2 teaspoon salt 1 cup packed dark-brown sugar 1/2 cup (1 stick) unsalted butter, room temperature 1/4 cup light corn syrup 2 large eggs 2 teaspoons pure vanilla extract 2 cups semisweet chocolate chips
As you all know, I am very much a beginner in the kitchen. So when my friends assigned both appetizers AND dessert to me for this year's Thanksgiving, I was in full panic mode as I didn't want to ruin our entire Thanksgiving dinner. Dessert, afterall, is the most important part of the meal. Furthermore, I was instructed that store-bought items were not welcome – because we all know I was already planning a trip to Whole Foods.