Theatrical music
ImproVidéo | Spontanement. J'adorais cette chanson !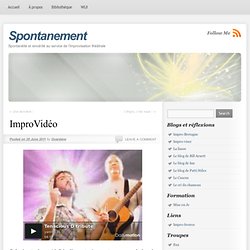 Je l'ai redécouverte récemment, parce que quelqu'un m'y a fait penser. En la ré-écoutant, je me rends compte que cette chanson est un hommage à l'impro. L'histoire raconte que les deux chanteurs rencontrent un démon qui leur demande de jouer la meilleure chanson du monde, et ils y parviennent en jouant la première chose qui leur venait à l'esprit ("And we played the first thing that comed to our head, just so happened to be the best song in the world").
Klaus Nomi. Nina Hagen. DEEPNESS Rock. Muppets. Louis De Funes - Extract from "L'homme orchestre" Chaplin Charabia Modern time. Dresden Dolls. Rona Hartner - Bate vantul frunzele. Concert de RONA HARTNER. Rasputina - Calico Indians.
---