Tag cloud
Generated Tag CloudsFlash: 288063 | HTML: 706786 | Used Tags: 19641840 The Tagcloud Generator is the most famous generator for Tagclouds. Over 1 Millionen Tag Clouds generated in the last years. You can use the Tagcloud Generator also with you iPhone or Android Handy. History: What to hell are tag clouds or popular tags? In 2002 Jim Flanagan was the first using tag clouds as a display form.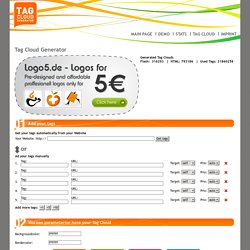 Tag cloud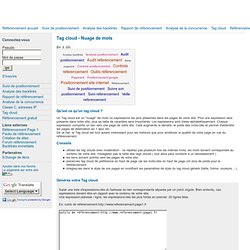 Tag cloud - Nuage de mots Qu'est ce qu'un tag cloud ? Un Tag cloud est un "nuage" de mots ou expressions les plus présentes dans les pages de votre site.
Tag cloud - Nuage de mots-clés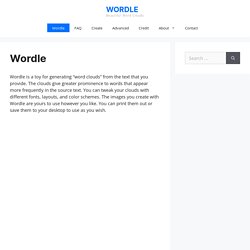 Wordle is a toy for generating "word clouds" from text that you provide. The clouds give greater prominence to words that appear more frequently in the source text. You can tweak your clouds with different fonts, layouts, and color schemes. The images you create with Wordle are yours to use however you like. You can print them out, or save them to the Wordle gallery to share with your friends.