Smartphone frameworks
OpenPlug
Cross Platform Mobile App Creator OpenPlug Drops All Fees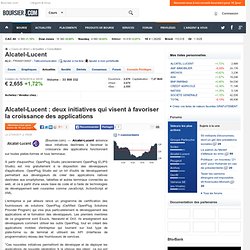 (Boursier.com) — Alcatel-Lucent annonce deux initiatives destinées à favoriser la croissance des applications fonctionnant sur toutes plates-formes et tous terminaux. À partir d'aujourd'hui, OpenPlug Studio (anciennement OpenPlug ELIPS Studio) est mis gratuitement à la disposition des développeurs d'applications. OpenPlug Studio est un kit d'outils de développement permettant aux développeurs de créer des applications natives destinées aux smartphones, tablettes et autres terminaux connectés au web, et ce à partir d'une seule base de code et à l'aide de technologies de développement web courantes comme JavaScript, ActionScript et XML. L'entreprise a par ailleurs lancé un programme de certification des fournisseurs de solutions OpenPlug (Certified OpenPlug Solutions Provider Program) qui vise plus particulièrement le développement des applications et la formation des développeurs. Les premiers membres de ce programme sont Exuvis, Nexworld et On3.
Alcatel-Lucent : deux initiatives qui visent à favoriser la croissance des applications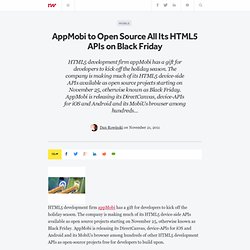 HTML5 development firm appMobi has a gift for developers to kick off the holiday season. The company is making much of its HTML5 device-side APIs available as open source projects starting on November 25, otherwise known as Black Friday. AppMobi is releasing its DirectCanvas, device-APIs for iOS and Android and its MobiUs browser among hundreds of other HTML5 development APIs as open-source projects free for developers to build upon. This cache of APIs is the type of trove that HTML5 developers could put to great use.
AppMobi to Open Source All Its HTML5 APIs on Black Friday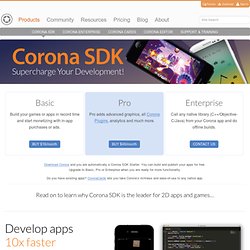 BasicBuild your games or apps in record time and start monetizing with in-app purchases or ads.BUY $16/monthProPro adds advanced graphics, all Corona Plugins, analytics and much more.BUY $49/monthEnterpriseCall any native library (C++/Objective-C/Java) from your Corona app and do offline builds.CONTACT US Download Corona and you are automatically a Corona SDK Starter. You can build and publish your apps for free.Upgrade to Basic, Pro or Enterprise when you are ready for more functionality. Do you have existing apps? CoronaCards lets you take Corona's richness and ease-of-use to any native app.
«Mes choix d'éditeur indépendant d'applications pour mobiles et tablettes.» - Témoignage sur : Quel outil de développement mobile utilisez-vous ?
Comme écrit dans un des premiers billets de ce blog, pénétrer le marché de l'App Store ou être plus généralement développeur pour mobile est un défi de taille, qui plus est pour les développeurs indépendants. La phase d'euphorie des temps bénis de l'avènement de l'iPhone étant passée, nous souhaiterions ici paraphraser un excellent article d'un ancien d'Ubisoft qui s'est lancé avec réalisme et intelligence dans l'aventure mobile en tant qu'indépendant. Car c'est bien en ayant le plus possible d'informations que l'on peut sereinement démarrer son projet d'application, et souvent un bon conseil peut éviter bien des turpitudes.
AppBasket - Le blog des éditeurs d'applications indépendants pour iOS et Android
For a very long time I have avoided learning HTML and ASP.Net and stayed away of applications using it. I didn't wanted to end up with messy code and hacks to support multiple browsers (read: Internet Explorer 6.0). But as HTML5 and CSS3 are gaining more momentum, I have changed my mind and I have started learning HTML, CSS and JavaScript. Even if these technologies have their annoyances, they are THE way to develop cross platform software applications. Recently there was a lot of buzz around PhoneGap. This a software framework that allows wrapping HTML5 applications into native applications for various mobile platforms (including iPhone, Android and Windows Phone).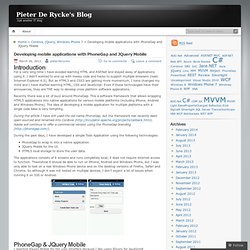 Developing mobile applications with PhoneGap and JQuery Mobile « Pieter De Rycke's Blog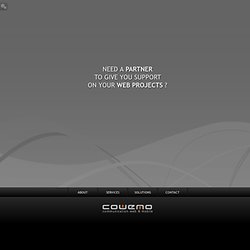 Need a partner to give you support on your Web projects ? was born from the association of web experts, which have pooled their expertise to create innovative solutions for standard & mobile websites. They trust us : Our Services COWEMO team has implemented more than 150 Web projects, its experience and recognized know-how enables COWEMO to work on almost any kind of web projets. We offer companies (from small to large businesses) dedicated and customized solutions which enhance their ability to develop a fluctuating Web strategy in order to retain their audience, to increase their incomes out of the Internet.
COWEMO - Web et Mobile
Pixmobi - CMS Mobile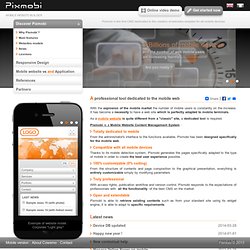 Discover the mobile versionof Pixmobi website Discover the mobile version ! "Flash" this code with your mobile phone to discover Pixmobi's mobile website. If you cannot access or read this site from your mobile, you can get an more realistic idea of its look and feel at the following address www.mobilephoneemulator.com. A professional tool dedicated to the mobile web
AppMobi to Open Source All Its HTML5 APIs on Black Friday
Sencha Touch Kitchen Sink The Kitchen Sink is an app that showcases all of the UI widgets, data features, animations, themes, and touch events offered by Sencha Touch. The app also features an easy way to view the live source of each demo — making it a great introduction to the framework.