Smartphone frameworks
OpenPlug
Cross Platform Mobile App Creator OpenPlug Drops All Fees
OpenPlug , a development toolkit for creating native apps for phones, tablets and other connected devices using JavaScript, ActionScript and XML, today became available free of charge or advertising - after more than 8 years of doing paid and ad-supported business. The company also announced a Certified OpenPlug Solutions Provider Program. OpenPlug was acquired by international communications network technology platform (and sponsor of this blog) Alcatel-Lucent in the Fall of 2010. Over on the main channel of ReadWriteWeb we analyzed the role of the technology in the larger ecosystem of network-level applications and APIs in depth when the acquisition was announced. I said over there that it was a very big deal; now what could be better than a very big deal turned free?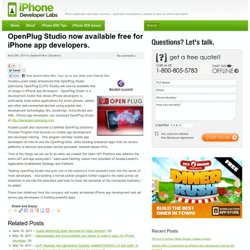 OpenPlug Studio now available free for iPhone app developers. | iPhone Application Developer - iPhone Developer Labs - iPhone Application Development
Alcatel-Lucent today announced that OpenPlug Studio (previously OpenPlug ELIPS Studio) will now be available free of charge to iPhone app developers. OpenPlug Studio is a development toolkit that allows iPhone developers to proficiently build native applications for smart phones, tablets and other web-connected devices using popular web development technologies like JavaScript, ActionScript and XML. iPhone app developers can download OpenPlug Studio at http://developer.openplug.com Alcatel-Lucent also launched a Certified OpenPlug Solutions Provider Program that focuses on mobile app development and developer training. This program will help mobile app developers on how to use the OpenPlug tools, while building enterprise apps that run across platforms or devices and power service providers' network-based APIs.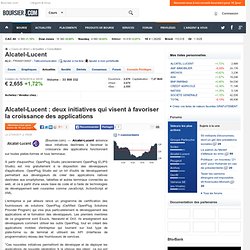 (Boursier.com) -- Alcatel-Lucent annonce deux initiatives destinées à favoriser la croissance des applications fonctionnant sur toutes plates-formes et tous terminaux. À partir d'aujourd'hui, OpenPlug Studio (anciennement OpenPlug ELIPS Studio) est mis gratuitement à la disposition des développeurs d'applications. OpenPlug Studio est un kit d'outils de développement permettant aux développeurs de créer des applications natives destinées aux smartphones, tablettes et autres terminaux connectés au web, et ce à partir d'une seule base de code et à l'aide de technologies de développement web courantes comme JavaScript, ActionScript et XML. L'entreprise a par ailleurs lancé un programme de certification des fournisseurs de solutions OpenPlug (Certified OpenPlug Solutions Provider Program) qui vise plus particulièrement le développement des applications et la formation des développeurs. Les premiers membres de ce programme sont Exuvis, Nexworld et On3.
Alcatel-Lucent : deux initiatives qui visent à favoriser la croissance des applications
LeMobile20] – A la découverte d'OpenPlug Studio
[LeMobile20] – A la découverte d'OpenPlug Studio 22 mars 2011 Pas de commentaire Depuis que je suis dans le secteur du mobile en France, je vois passer des entreprises qui se proposent d'harmoniser mes développements et de proposer un « one to many », soit un seul développement en amont qui me permette d'adresser ensuite de multiples plateformes et de multiples OS. OpenPlug récemment racheté par Alcatel / Lucent est une de ces sociétés, rencontrées dans les allées de l'événement LeMobile2.0. Le systématisme d'OpenPlug permet à un éditeur de briefer et lancer le développement (langage web) unique de son application. Ensuite, ce sont les moulinettes et mécaniques d'OpenPlug qui viennent adapter ces développements aux spécificités des langages et outils propres à chacun des OS.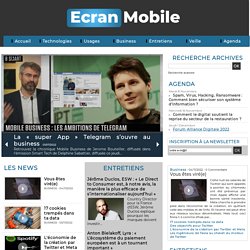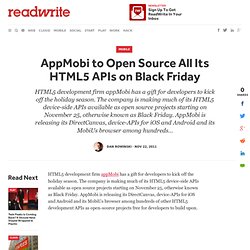 HTML5 development firm appMobi has a gift for developers to kick off the holiday season. The company is making much of its HTML5 device-side APIs available as open source projects starting on November 25, otherwise known as Black Friday. AppMobi is releasing its DirectCanvas, device-APIs for iOS and Android and its MobiUs browser among hundreds of other HTML5 development APIs as open-source projects free for developers to build upon. This cache of APIs is the type of trove that HTML5 developers could put to great use. For appMobi, HTML5 is not about the desktop, it is about mobile and it has worked to create functionality for device access by HTML5 applications including access to native functions like the camera, accelerometer and GPS. AppMobi is pushing hard on HTML5 development and, one way or another, it is trying to drag the rest of the ecosystem with it.
AppMobi to Open Source All Its HTML5 APIs on Black Friday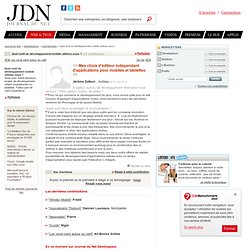 «Mes choix d'éditeur indépendant d'applications pour mobiles et tablettes.» - Témoignage sur : Quel outil de développement mobile utilisez-vous ?
Jérôme Zattoni , Antibes le 27 avril 2012 A quel(s) outil(s) de développement Web avez-vous recours ? Pour quel(s) type(s) de projet ? Pour ce qui concerne le développement de jeux, nous avons opté pour le sdk Corona.
AppBasket - Le blog des éditeurs d'applications indépendants pour iOS et Android
For a very long time I have avoided learning HTML and ASP.Net and stayed away of applications using it. I didn't wanted to end up with messy code and hacks to support multiple browsers (read: Internet Explorer 6.0). But as HTML5 and CSS3 are gaining more momentum, I have changed my mind and I have started learning HTML, CSS and JavaScript. Even if these technologies have their annoyances, they are THE way to develop cross platform software applications. Recently there was a lot of buzz around PhoneGap. This a software framework that allows wrapping HTML5 applications into native applications for various mobile platforms (including iPhone, Android and Windows Phone).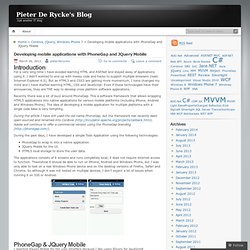 Developing mobile applications with PhoneGap and JQuery Mobile « Pieter De Rycke's Blog
COWEMO - Web et Mobile
Pixmobi - CMS Mobile
AppMobi to Open Source All Its HTML5 APIs on Black Friday
Sencha Touch Kitchen Sink The Kitchen Sink is an app that showcases all of the UI widgets, data features, animations, themes, and touch events offered by Sencha Touch. The app also features an easy way to view the live source of each demo — making it a great introduction to the framework.