Hadoop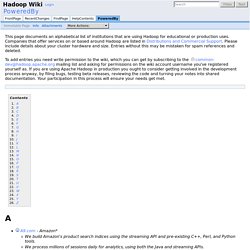 PoweredBy Hadoop
This page documents an alphabetical list of institutions that are using Hadoop for educational or production uses. Companies that offer services on or based around Hadoop are listed in Distributions and Commercial Support .
PoweredBy - Hadoop Wiki
Traditional SQL databases, such as Oracle, DB2 and SQL server should be used for what they do best: managing a consistent and integrated transactional model.Their designs are adapted to application systems requiring a high level of consistency and guaranteed inter-table integrity.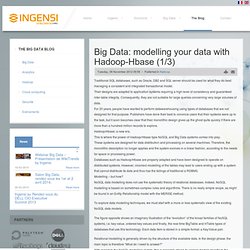 Big Data : comment modéliser ses données avec Hadoop-Hbase?(1/3)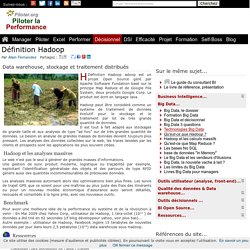 Data warehouse, stockage et traitement distribués Définition Hadoop Hadoop est un projet Open Source géré par Apache Software Fundation basé sur le principe Map Reduce et de Google File System, deux produits Google Corp.
What is Hadoop? Other big data terms like MapReduce?
Dhruba Borthakur, a Hadoop Engineer at Facebook, has published part of a paper he co-authored with several of his engineering co-workers on Apache Hadoop. The first part of the paper explains Facebook's requirements and non-requirements for a data store for its revamped Facebook Messages application and the reasons it chose Apache Hadoop to power it. The paper will be published at SIGMOD 2011. The requirements: Elasticity High write throughput Efficient and low-latency strong consistency semantics within a data center Efficient random reads from disk High Availability and Disaster Recovery Fault Isolation Atomic read-modify-write primitives Range Scans
Why Facebook Uses Apache Hadoop and HBase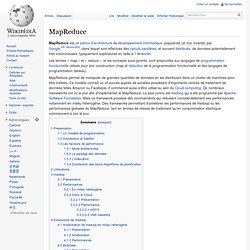 Un article de Wikipédia, l'encyclopédie libre. Les terminologies de « Map » et « Reduce », et leurs idées générales, sont empruntées aux langages de programmation fonctionnelle utilisés pour leur construction (map et réduction de la programmation fonctionnelle et des langages de programmation tableau).