Dresden Dolls
Runs In The Family - "Who Killed Amanda Palmer" Video Series: Part 4
The Dresden Dolls 'War Pigs' (live) at Paradise 07.09.04
The Dresden Dolls "Half Jack" Live From The Paradise 2005*
The Dresden Dolls - "Pirate Jenny" - Live at House of Blues San Diego
Amanda Palmer ~ 09.02 at the Fri-Son « ~Dark Light~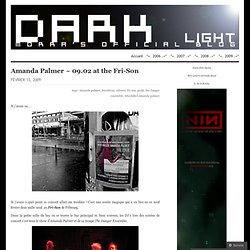 Si j'avais su…. Si j'avais à quel point ce concert allait me troubler ! C'est une soirée magique qui a eu lieu en ce neuf février deux mille neuf, au Fri-Son de Fribourg. Dans la petite salle du bas où se trouve le bar principal et, bien souvent, les DJ's lors des soirées de concert s'est tenu le show d'Amanda Palmer et de sa troupe The Danger Ensemble. En première partie, Miss Edith eu la tâche de nous faire glisser gentiment vers un destin inexorable. La moitié féminine de l'entité Dresden Dolls a sorti en septembre dernier son premier album solo, fruit d'un long travail.
Amanda Palmer - Creep - une vidéo Musique
Amanda Palmer - Runs In The Family
The "Oasis" Music Video - From "Who Killed Amanda Palmer"
‪Katy Perry's "I Kissed A Girl" performed by Amanda Palmer and The Danger Ensemble‬‏
coin operated boy (cover)