Big data
Get flash to fully experience Pearltrees
D'un récent voyage dans la Silicon Valley (merci aux amis du Orange Institute ), je rentre avec une conviction : tout ce que nous connaissions du web va changer à nouveau avec le phénomène des big data . Il pose à nouveau, sur des bases différentes, presque toutes les questions liées à la transformation numérique. En 2008, l'humanité a déversé 480 milliards de Gigabytes sur Internet.
Thank you all for a wonderful semester.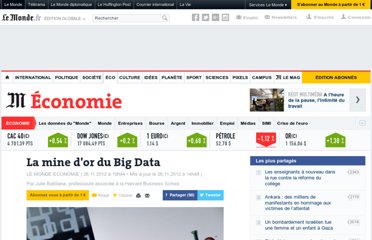 L'explosion du volume des données informatiques, du fait du développement de l'Internet et des nouvelles technologies de l'information, a ouvert de nouveaux horizons aux entreprises .
ParisTech Review. En l'espace de deux ou trois ans, le thème des Big Data s'est imposé dans l'espace public, suscitant enthousiasme et réticences… sans qu'on sache toujours précisément de quoi il s'agit. Pouvez-vous nous l'expliquer rapidement ? Henri Verdier. Cette confusion n'a rien de surprenant, car non seulement c'est un thème récent mais, surtout, on assiste à un affrontement politique et économique autour de sa définition.
BIG DATA (1/3) Mais bordel c'est quoi la Big Data ! 2011 a vu l'avènement de la communication M2M, de l'internet des objets ou encore de l'impression 3D. En 2012, on nous a principalement vendu le concept de BYOD (Bring Your Own Device at work pour les novices) et la… big data : discipline naissante ?
Photos, vidéos , sons, chiffres, textes...
This is a written follow-up to a talk presented at a recent Strata online event . A new breed of startup is emerging, built to take advantage of the rising tides of data across a variety of verticals and the maturing ecosystem of tools for its large-scale analysis. These are data startups, and they are the sumo wrestlers on the startup stage. The weight of data is a source of their competitive advantage. But like their sumo mentors, size alone is not enough.
Voldemort is a distributed key-value storage system Data is automatically replicated over multiple servers. Data is automatically partitioned so each server contains only a subset of the total data Server failure is handled transparently Pluggable serialization is supported to allow rich keys and values including lists and tuples with named fields, as well as to integrate with common serialization frameworks like Protocol Buffers, Thrift, Avro and Java Serialization Data items are versioned to maximize data integrity in failure scenarios without compromising availability of the system Each node is independent of other nodes with no central point of failure or coordination Good single node performance: you can expect 10-20k operations per second depending on the machines, the network, the disk system, and the data replication factor Support for pluggable data placement strategies to support things like distribution across data centers that are geographically far apart.
01Business le 07/07/11 à 09h33 C'est un marché particulièrement prometteur, une nouvelle ruée vers l'or.