Mobile/Location Based
App Press
How 4 Small Businesses are Using Location-Based Services. The Small Business Round Table Series is supported by the British Airways Face-to-Face Program, which offers U.S. entrepreneurs and small business owners critical tools for building business relationships abroad.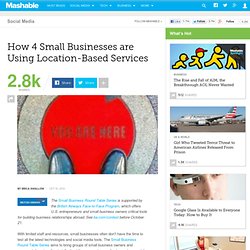 See ba.com/contest before October 21. With limited staff and resources, small businesses often don't have the time to test all the latest technologies and social media tools. The Small Business Round Table Series aims to bring groups of small business owners and representatives together to talk about the pros and cons of using various social media and tech tools. For this installment, we brought together four small biz insiders to talk about how their small businesses are using location-based services, such as Foursquare, SCVNGR and Facebook Places. Our knowledgeable round table attendees included: D4M 2010 - Design For Mobile. Why Location-Based Social Media Needs to Get "Passive" Aggressive.
Jesse Thomas is the CEO and Founder of JESS3, a Creative Interactive Agency.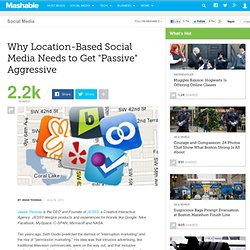 JESS3 designs products and experiences for brands like Google, Nike, Facebook, MySpace, C-SPAN, Microsoft and NASA. Ten years ago, Seth Godin predicted the demise of "interruption marketing" and the rise of "permission marketing. " His idea was that intrusive advertising, like traditional television commercials, were on the way out, and that inclusive methods were on the rise — not just product placements, but customer loyalty programs, rewards and quid pro quo agreements that required some level of trust between the business and customer.
---