Nicolefox
Kayla
Studying to be an art teacher.
Weronika Mamot portfolio - wanted. Fn.CH8FF.jpg (JPEG Image, 640x471 pixels) 25 Beauty Tips Reusing Household Items – Homemade Beauty Tips on ELLE. 1.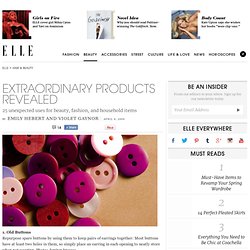 Old Buttons Repurpose spare buttons by using them to keep pairs of earrings together: Most buttons have at least two holes in them, so simply place an earring in each opening to neatly store when not wearing. Photo: Jupiter Images 2. Eyebrow Brush Stuck without a lint-remover? Tumblr.
Music. Puzzles/Quizzes. Health. Crafts/D.I.Y. Food/recipes. Images. My blogs. Beauty. Fashion.
---