Guitar Practice
Guitar Exercise For Finger Independence and Control.pdf - Google Docs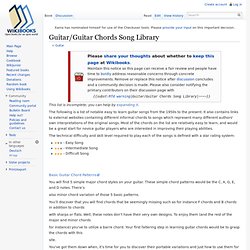 The following is a list of notable easy to learn guitar songs from the 1950s to the present. It also contains links to external websites containing different informal chords to songs which represent many different authors' own interpretations of the original songs. Most of the chords on the list are relatively easy to learn, and would be a great start for novice guitar players who are interested in improving their playing abilities.
EliteTabs.com Your source for Guitar Pro and Power Tabs scores
Guitar Shred Show Tab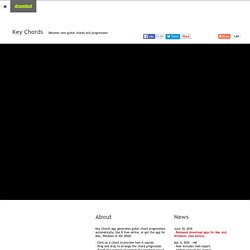 Key Chords is an interactive chord chart that allows you hear and see and arrange chords.
G#/Ab GUITAR CHORDS
To practice and memorize these shapes, play the arpeggio in sequence, beginning at the lowest root note, up to the highest note in the shape, down to the lowest in the shape and back up to the lowest root note. The following are tabs of this exercise for the 5 minor arpeggio shapes.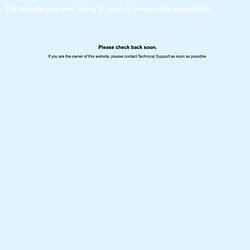 Chorus effect creates an illusion of multiple instruments playing at once. The effect is produced by splitting the original electric guitar signal, and than delaying and pitch shifting one (or more parts) of the signal that when combined together produces chorus effect. Almost any rock balad song has a chorus effect on a clean guitar sound. It just sound so amazing when effect is applied properly. You should definetely have such a pedal in your arsenal, you can check out the prices here.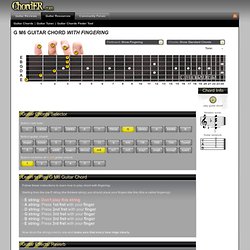 G M6 Guitar Chord Fingering Variation 4
10 Ways to Play the Most Beautiful Open Chord Shapes Part I A great way to make your chord progressions and songs sound awesome is to use open chord shapes.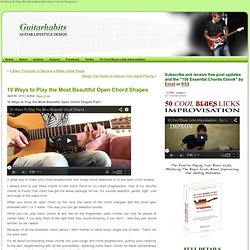 Fretting Combinations Exercise 1
The goal of this exercise is to improve the speed of your fingers when playing on a single string in a given fretboard position. The example below shows the 6th string in 1st position. Place your fingers in first position on the 6th string with your fingers on frets 1- 4.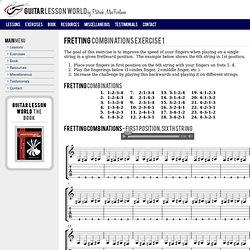 The Ultimate Guitar Guide Part 1 - Online Guitar Lessons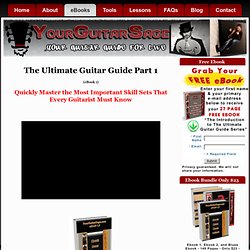 (eBook 1) Quickly Master the Most Important Skill Sets That Every Guitarist Must Know Click below to add the eBook to your cart! Learn More About The Ebook Below Hi there,
www.metalmethod.com/pdf/notenames.pdf